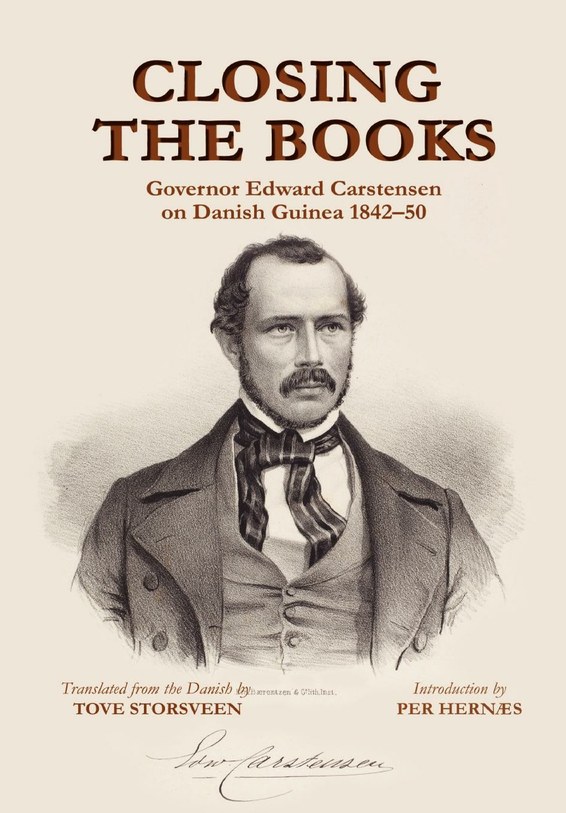 | | |
| --- | --- |
| ISBN | 9789988647650 |
| Pages | 450 |
| Dimensions | 229 x 152 mm |
| Illustrations | B/W Illustrations and Maps |
| Published | 2010 |
| Publisher | Sub-Saharan Publishers, Ghana |
| Format | Hardback |
Closing the Books
Governor Edward Carstensen on Danish Guinea 1842-50
Sitting on the terrace of the royal plantation Frederiksgave, his favourite retreat, Governor Edward Carstensen came to see the inevitable: Denmark had to give up her "possessions" in Africa. As fate would have it, he came to be the instrument by which two centuries of Danish involvement on the Gold Coast was terminated, thereby making way for the emergence of the colonial system that developed there. After the abolition of the slave trade, Denmark had struggled to find ways and means to legitimate her continued stay at the Coast. At an early stage the Danes initiated a number of attempts to establish experimental plantations to cultivate export crops such as cotton, coffee and sugar. But a transition from slave trade to "legitimate" products required stability and peace, and a need for control, which the rather limited Danish presence was not able to maintain. Closing the Books comprises a compilation of the official reports that the last Danish Governor sent home during his term of office at the Gold Coast. The reports reflect his personal views regarding the economic and political situations there, as well as his ideas on the "civilization of Africa".
Review
"Carstensen was a reliable observer and an articulate rapporteur of local affairs …the English translation of his papers therefore opens up a gold mine of information to the international and Ghanaian community of scholars, and to all among the general public who are interested in Ghanaian history."
Professor Per Hernæs
About the Editor
Tove Storsveen, graduated as cand. mag. at the University of Oslo in 1974, and has worked within the largest publishing houses in Norway, Cappelen and Aschehoug, for most of her professional life. She is a member of UNESCO's Fredensborg Team, and the translator of Closing the books, Governor Edward Carstensen on Danish Guinea 1842-50. Tove Storsveen, born and bred in Norway, discovered with astonishment the Ghanaian legacy of 200 years of interaction with Denmark-Norway, when she, in 1968, came to Ghana for the first time as a student. The same year, the Danish author Thorkild Hansen, launched his first book on the Transatlantic Slave Trade and the Danish forts and trading stations along the Coast. The book became a bestseller and an eye opener in Scandinavia. Since in Ghana, she followed in his footsteps, visited the places, and the reality of the account was unfolded for her eyes. That was the beginning of a fascination for the Danish era on the Gold Coast, which for her culminated with the translation of the official reports of the last Danish governor, Edward Carstensen. In 1995 as editor and publisher, she commissioned the book, The Slave Ship Fredensborg, with Leif Svalesen as author, the diver who found the ship as wreck outside the coast of Norway. "Fredensborg" became a sort of trade mark for UNESCO and the 10-years cultural programme "on the slave route".