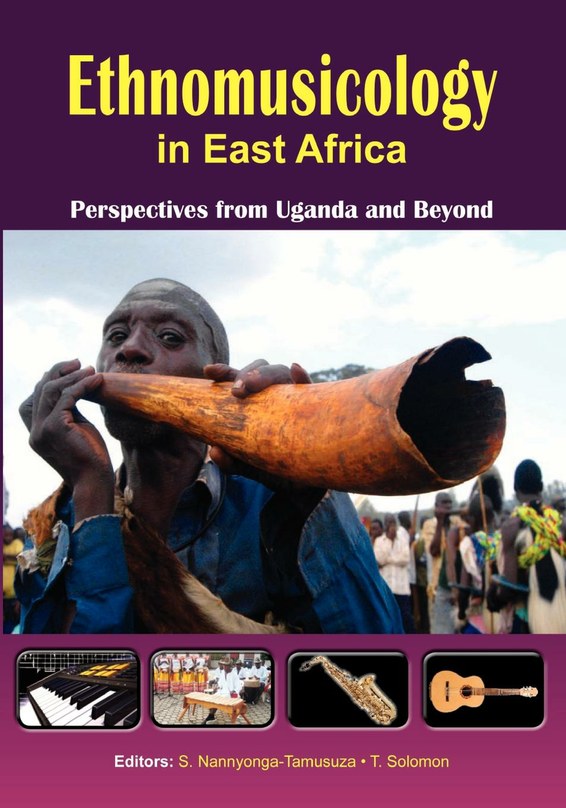 | | |
| --- | --- |
| ISBN | 9789970251353 |
| Pages | 272 |
| Dimensions | 254mm x 178mm |
| Illustrations | B/W Illustrations |
| Published | 2012 |
| Publisher | Fountain Publishers, Uganda |
| Format | Paperback |
Ethnomusicology in East Africa
Perspectives from Uganda and Beyond
Ethnomusicology in East Africa is a first for Uganda. It brings together thinkers and artists from Uganda, East Africa and further afield to discuss an area of vital importance to Africans as a people. The book presents selected papers from the First International Symposium on Ethnomusicology in Uganda, held at Makerere University in Kampala from 23-25 November 2009. The symposium, organised by the Department of Music, Dance and Drama (now the Department of Performing Arts and Film) of the university and the Grieg Academy-Department of Music at the University of Bergen, marked the end of the first period of the project Ethnomusicology in Uganda: Education, Research and Preservation of Cultural Heritage.
Scholarly research on music in East Africa has a long history, stretching back to the beginnings of comparative musicology at the end of the Nineteenth Century during the colonial period. With the growth of the field of ethnomusicology after World War II, European and American researchers such as Klaus Wachsmann and Gerhard Kubik helped to consolidate East Africa's place on the world musical map, through both historical study and fieldwork-based ethnographic research. This generation of scholars also shepherded regional music studies through the period of formal political decolonisation as the East African countries became independent in the early 1960s. An important development in the field since the turn of the twenty-first century has been the emergence of an increasing number of professionally trained scholars from East African countries who have contributed to the ongoing decolonisation of musical scholarship in Africa. These ethnomusicologists have made important contributions not only with their own original research in the region, but also in their work strengthening the institutional bases for ethnomusicology in East African countries. Their contributions include the establishment and consolidation of local college and university study programmes in ethnomusicology, their teaching of a new generation of East African students, and their vigorous international networking within the East African region and beyond.
This book represents an important step in the continued professionalisation of ethnomusicology in Uganda. It presents new work by Uganda-based researchers, from students to academic staff, and solidly places that work within the international scholarly ethnomusicological conversation. We hope that the reader will find that this collection of papers is more substantial and coherent than the phrase 'conference proceedings' often implies, and that the work presented here will be regarded as a significant contribution to the study of music in Uganda and the wider East African region. With most of the contributions coming from scholars from East Africa, this collection thus confirms the decolonising trend toward 'indigenous' scholarship in ethnomusicology, where 'we' participate in writing 'our' own culture.
About the Editors
Sylvia Nannyonga-Tamusuza is Associate Professor of Music at Makerere University, co-coordinator of the Ethnomusicology in Uganda Projects, and founder and Curator of the Makerere University Klaus Wachsmann Music Archive. She has published on popular music, church music, school music competitions, dance as music, sexuality in music and dance, politics and gender in music, the interface between ethnomusicology and music education, and identities in diasporic music. Her publications include the book Baakisimba: Gender in Music and Dance of the Baganda People of Uganda (Routledge, 2005), as well as many articles in journals and edited volumes. Her present research focuses on cultural policy and music copyright in Uganda, and community music repatriation.
Thomas Solomon is Associate Professor in the Grieg Academy-Department of Music at the University of Bergen, Norway and co-coordinator of the Ethnomusicology in Uganda Projects. He has previous taught at New York University, University of Minnesota and Istanbul Technical University. He has done eld research in Bolivia on musical imaginations of ecology, place and identity, and in Istanbul on place and identity in Turkish hip-hop. His publications include articles in the journals Ethnomusicology, Popular Music, European Journal of Cultural Studies, and Yearbook for Traditional Music, as well numerous papers in edited volumes. He is also editor of Music and Identity in Norway and Beyond: Essays Commemorating Edvard Grieg the Humanist (Fagbokforlaget, Bergen 2011).