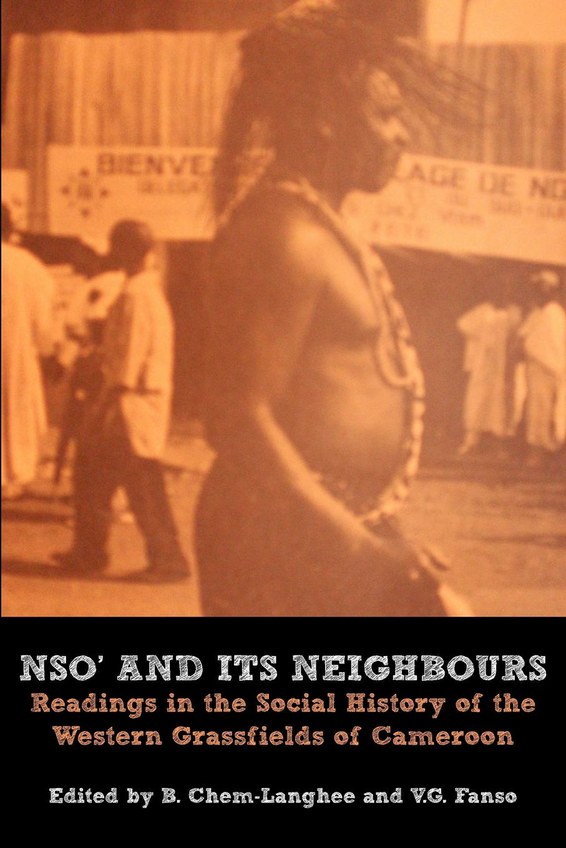 | | |
| --- | --- |
| ISBN | 9789956717538 |
| Pages | 522 |
| Dimensions | 229 x 152 mm |
| Illustrations | B/W Illustrations and Maps |
| Published | 2011 |
| Publisher | Langaa RPCIG, Cameroon |
| Format | Paperback |
Nso and Its Neighbours
Readings in the Social History of the Western Grassfields of Cameroon
This is a rich and compelling volume of readings in social history on Nso' and its neighbours in the Western Grassfields of Cameroon. It consists of 19 essays by some of the leading historians, archeologists and ethnographers of the region, with seminal contributions by Jean-Pierre Warnier, Paul Nchoji Nkwi, Bongfen Chem-Langhee, Phyllis Kaberry, E.M Chilver, Miriam Goheen, Ian Flower, Dan Lantum and V.G. Fanso. The book covers a broad range of themes from precolonial times to date, including trade, alliances, diplomacy, the iron industry, colonial impact, continuities, discontinuities and compromise, general persistence, ideology and conflict. Warnier draws on linguistic and archaeological data to argue that this region has been settled for several millennia, very probably continuously, and that its landscapes are very ancient and have resulted from many human and natural forces other than the simple clearance of the forest cover of the region at an uncertain date as some authors have postulated.
Using data on inter-group diplomacy and alliances, Nkwi puts into question some problematic theses on persistence hostilities and enhances knowledge of the precolonial history of the region. Fowler and Chem-Langhee show how local conditions and needs fostered the spirit and practice of cooperative ventures in the precolonial period, which provided the driving force and the ideological and structural underpinnings for the successful and smooth introduction of modern modes of cooperation in the area during the colonial and postcolonial periods. The rest of the studies have a unifying theme or thesis, namely, that despite the entry and assault of external, influences, particularly those associated with colonialism, Christianity and Islam, the traditional institutions, customs and value systems of the Nso' and their neighbours have resisted major change and their total corrosion is not yet in sight. The volume illustrates the proposition that historical research is a continuous process of rediscovery which provides new questions, and also that the evidence of other disciplines – linguistics, archaeology and palaeobotany for example – may give rise to many new lines of inquiry and help to correct the documentary record and explain oral tradition. Herein lies the most important element of this experimental collection. Its editors hope that it will provoke other similar collections.
About the Editors
B. Chem-Langhee is Professor of History, University of Yaounde I, Cameroon
V.G. Fanso is Professor of History, University of Yaounde I, Cameroon.