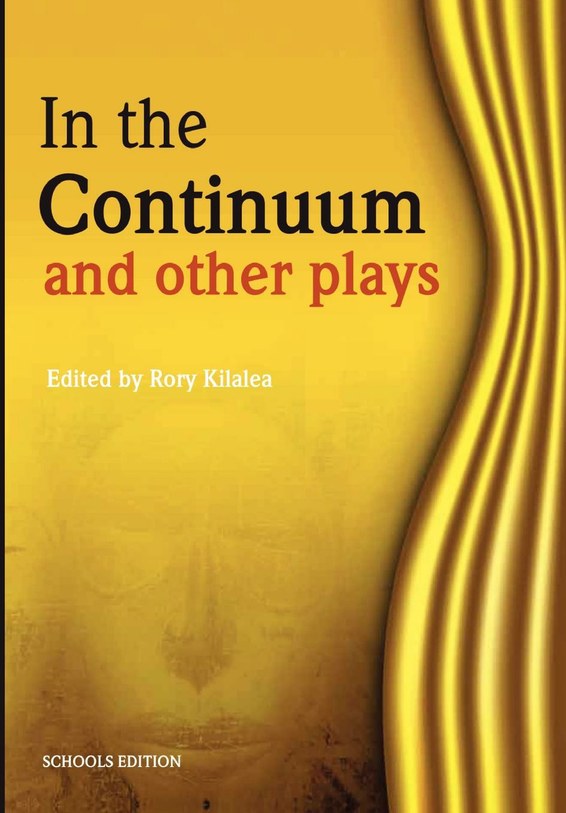 | | |
| --- | --- |
| ISBN | 9781779220844 |
| Pages | 126 |
| Dimensions | 244 x 170 mm |
| Published | 2009 |
| Publisher | Weaver Press, Zimbabwe |
| Format | Paperback |
In the Continuum and other plays
Theatre and drama are very much part of our every day lives. These four plays: Belonging by Mirirai Moyo, When I Meet my Mother by Kathleen McCreery, In the Continuum by Danai Gurira and Nikkole Salter, and Power Failure by Jide Afoylan reveal the dynamism and variety of theatre. They also reveal that from Zimbabwe to Brazil, Nigeria to the USA, societies despite their diversity share many common problems and challenges. Annotated for schools with questions and notes by Rory Kilalea, teachers and students will find this a richly accessible text.
THE PLAYS

In the Continuum
By Danai Gurira and Nikkole Salter

In the Continuum is the story of two young women, one in Harare and the other in South Central Los Angeles, experiencing a kaleidoscopic weekend of darkly comic, life-changing revelation. With the two playwrights/actors playing all the roles, In the Continuum tells the story of parallel denials and self-discovery in a manner that while bordering on tragedy is often very funny.
'Neither preachy nor depressing, this play is moving, smart, spirited and powerfully funny!' Isherwood – New York Times

Belonging
By Mirirai Moyo

Belonging tells the story of how an adventurous young hen Kuku and the hyena Bere discover shared interests and companionship that the rest of their tribe will not countenance. In the process Mirirai Moyo explores identity and choice and shows how friendship can help us to break down stereotypes.
'The most original and inventive play I have read in a long time.' - Shimmer Chinodya

Power Failure
By Jide Olugbenga Afolayan

Power Failure is a lively comic drama about the potential dangers of indiscriminate power-cuts when a small boy cannot receive the hospital treatment he needs because there is no electricity. Poking fun at the system, Jide Afolayan explores both corruption and resourcefulness as citizens determine to survive in a place where public facilities are inadequate and subject to the vagaries of the powerful.
'Power Failure addresses real problems as well as exploiting the comic potential of its subject matter to the full.' - Catherine Fellows, BBC Radio Drama

When I meet my Mother
By Kathleen McCreery

This play explores the lives, hopes and fears of a gang of underage street kids living in a Brazilian suburb. Narrated through eight small, but powerful voices, we experience the bonds of friendship and loyalty that develop in a small fringe society constantly under threat, from not only the forces of law and order but from criminals and thugs.  Kathleen McCreery's long experience of working with street children in England, Ghana and South Africa, makes this play one that requires us to think about how society can support those that are marginalised.
'A thought-provoking and vivid play that reveals friendship, invention and an instinct for justice as powerful bonds of survival for street children everywhere. It is also a call for change.' - Fiona Lesley, Co-Director The MAP Consortium.
About the Editor
Rory Kilalea is trained in theatre, education and film, and has acted in many theatre productions, from comedy to Shakespearean tragedy. He has worked as a director in films from the 1980s, and was part of the crew who produced many international anti-Apartheid films. He is currently teaching film at the MET film school at Ealing Studios in London and travels to teach workshops and direct shows around the world. As a theatre director, he has written his own plays, and had them produced in South Africa, at the Market Theatre, The National in London and at the Edinburgh Festival in Scotland. He is currently the recipient of the Suzie Smith Oxfam award for his short story and play 'Colours' which explores the issues of HIV and AIDS in Africa. He has lectured on broadcasting, writing for stage, screen and radio as well as stage craft at the University of Zimbabwe and around the world.