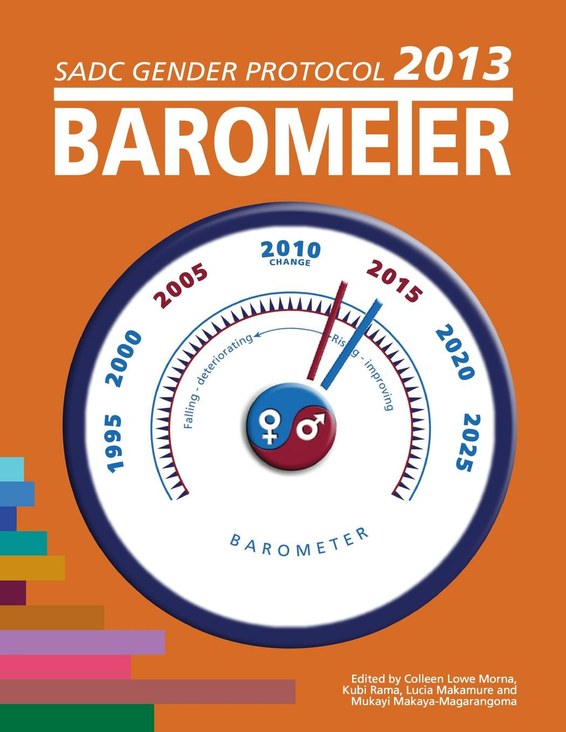 | | |
| --- | --- |
| ISBN | 9780986987946 |
| Pages | 370 |
| Dimensions | 280mm x 216mm |
| Illustrations | Colour Illustrations and Colour Photographs |
| Published | 2013 |
| Publisher | Gender Links, South Africa |
| Format | Paperback |
SADC Gender Protocol 2013 Barometer
In August 2008, Heads of State of the Southern African Development Community adopted the ground-breaking SADC Protocol on Gender and Development. This followed a concerted campaign by NGOs under the umbrella of the Southern Africa Gender Protocol Alliance. By the 2013 Heads of State summit, 13 countries had signed and 12 countries had ratified the SADC Gender Protocol. The Protocol is now in force. With two years to go, time is ticking to 2015, when governments need to have achieved 28 targets for the attainment of gender equality. In keeping with the Alliance slogan: "Yes we must", this 2013 Barometer provides a wealth of updated data against which progress will be measured by all those who cherish democracy in the region. The SADC Gender and Development Index (SGDI), introduced in 2011, complements the Citizen Score Card (CSC) that has been running for five years to benchmark progress.
About the Editors
Colleen Lowe Morna (South Africa) is CEO of Gender Links. A South African born in Zimbabwe, Colleen began her career as a journalist specialising in economic and development reporting including as Africa Editor of the New Delhi-based Women's Feature Service.  She joined the Commonwealth Secretariat as a senior researcher on the Africa desk in 1991, and later served as Chief Programme Officer of the Commonwealth Observer Mission to South Africa. Colleen subsequently served as founding CEO of the South African Commission on Gender Equality. A trainer, researcher and writer, Colleen has written extensively on gender issues in Southern Africa. She holds a BA degree in International Relations from Princeton University; Masters in Journalism from Columbia University and certificate in executive management from the London Business School. She has received awards from the Woodrow Wilson School of International Relations; the News women's Club of New York and the Mail and Guardian newspaper in South Africa. In 2007, South Africa's Media Magazine named Colleen runner up in the Media Woman of the Year Award. In 2013, CEO magazine named Colleen the "most influential woman" in South Africa and Africa as a whole in the civil society category. A year later the University of Johannesburg awarded Colleen honorary membership of the Golden Key Association that recognises excellence in academia and public service. Colleen has served as editor-in-chief of all nine Barometers.
Kubi Rama (South Africa) is Gender Links' Chief of Operations. She is the former CEO of the Gender and Media Southern Africa (GEMSA) Network. Prior to joining Gender Links, Kubi served at the Department of Journalism (Durban Institute of Technology) as a senior lecturer. Past work experience includes co-ordinating the Durban Media Training Forum, marketing manager of the Career Information Centre and the chairperson of the regional South African Health Workers Congress. She is currently completing her masters in Cultural and Media Studies at the former University of Natal. She holds an honours degree in Cultural and Media Studies and a bachelors degree in law, both from the former University of Natal. Rama updated the GBV chapter of this report.
Lucia Makamure (Zimbabwe) is the Alliance and Partnerships Officer at Gender Links. She is responsible for coordinating the SADC Gender Protocol Alliance network and the annual SADC Gender Protocol Barometer research. Makamure, who also updated the Education chapter of the regional report joined the organisation in 2011 and is responsible for much of the desktop and administrative follow up and support on this project. Previously she worked for the Zimbabwe Independent as a political reporter. Makamure co-edited the regional barometer report.
Mukayi Makaya Magarangoma (Zimbabwe) joined Gender Links in 2008, she serves as manager of the Gender Links Services Unit. Previously she worked in Zimbabwe at the Southern African Research and Documentation Centre (SARDC) as Marketing and Communications Officer. Makaya Magarangoma has contributed to several publications at Gender Links including previous Barometer Regional and Country Reports. Makaya Magarangoma holds a BBA Honours Degree in Marketing and is currently studying towards a Masters in Gender and Development. She updated the Governance and Constitutional and Legal Rights chapters and co-edited the regional barometer report.