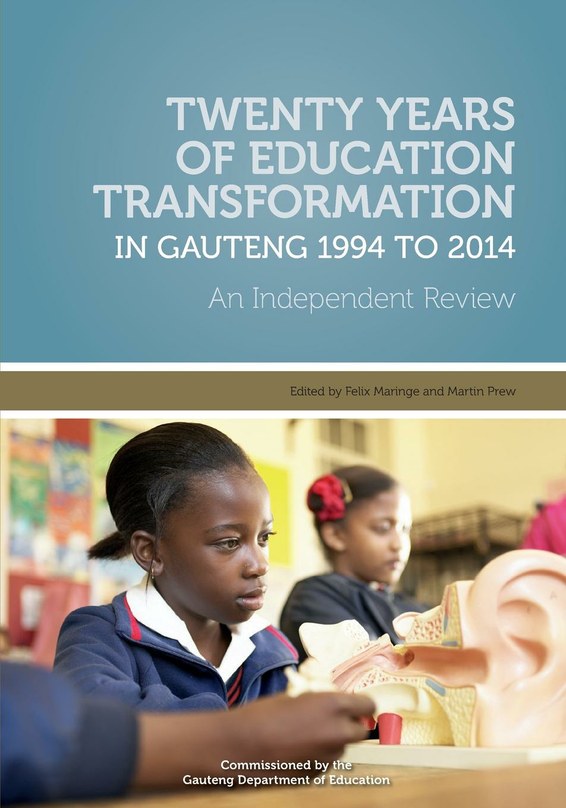 | | |
| --- | --- |
| ISBN | 9780621429152 |
| Pages | 358 |
| Dimensions | 254 x 178mm |
| Published | 2015 |
| Publisher | African Minds Publishers, South Africa |
| Format | Paperback |
Twenty Years of Education Transformation in Gauteng 1994 to 2014
Twenty Years of Education Transformation in Gauteng 1994 to 2014: An Independent Review presents a collection of 15 important essays on different aspects of education in Gauteng since the advent of democracy in 1994. These essays talk to what a provincial education department does and how and why it does these things - whether it be about policy, resourcing or implementing projects. Each essay is written by one or more specialist in the relevant focus area. The book is written to be accessible to the general reader as well as being informative and an essential resource for the specialist reader. It sheds light on aspects of how a provincial department operates and why and with what consequences certain decisions have been made in education over the last 20 turbulent years, both nationally and provincially. There has been no attempt to fit the book's chapters into a particular ideological or educational paradigm, and as a result the reader will find differing views on various aspects of the Gauteng Department of Education's present and past. We leave the reader to decide to what extent the GDE has fulfilled its educational mandate over the last 20 years.
Review
"Twenty Years of Education Transformation in Gauteng 1994 to 2014 is an invaluable contribution to understanding both the challenges and the successes of system-wide education change in South Africa. Authored by some of the leading public sector managers and university scholars, it offers judicious narratives of the complex passage from policy to implementation to institutionalisation."
Prof. Brahm Fleisch, Professor at the Wits School of Education and Head of Educational Leadership and Policy Studies
About the Editors
Prof. Felix Maringe is a professor in the Division of Educational Leadership and Policy Studies in the Wits School of Education at the University of the Witwatersrand. He has worked in Zimbabwe, the UK and now here in South Africa. With a publications record of more than fifty outputs, his core area of research interest is in leadership in education, the impact of globalisation on education, and the management of transforming educational spaces. He is also chair of the Research Degrees Committee in the Wits School of Education and Assistant Dean: Internationalisation and Partnership in the Faculty of Humanities. Currently he is involved in a large-scale project on school improvement with the Mpumalanga Department of Education.
Dr Martin Prew took up a visiting fellowship at the University of the Witwatersrand and set up an education development agency based in Pretoria and Uganda in October 2012. Most of his work at present is in managing large-scale programme evaluations in South Sudan and Uganda and writing projects in South Africa. After ten years of teaching and lecturing history, geography and political economy in Zimbabwe during the 1980s, he completed a masters degree at the Institute of Education in London. He settled in South Africa in late 1993 as the education director of a small NGO, Link Community Development (LCD). Over the next eight years, he helped to build it into an international education development organisation that works in seven African countries. Between 2002 and 2007, he was director of the national Department of Education, with responsibility for school management and governance, districts and school safety. He then returned to LCD for two years and later spent three years as executive director of the Centre for Education Policy Development (CEPD).