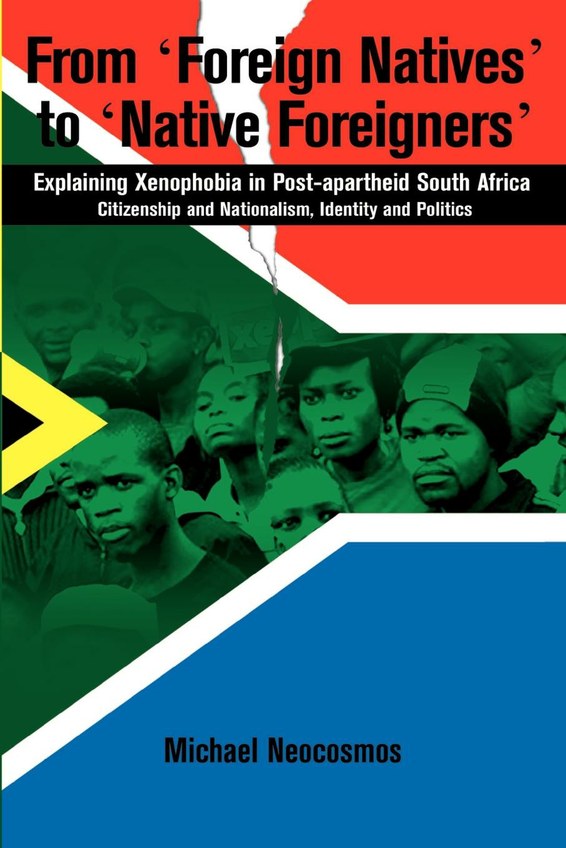 | | |
| --- | --- |
| ISBN | 9782869783072 |
| Pages | 188 |
| Dimensions | 234 x 156 mm |
| Published | 2010 |
| Publisher | CODESRIA, Senegal |
| Format | Paperback |
From "Foreign Natives" to "Native Foreigners"
Explaining Xenophobia in Post-apartheid South Africa
The events of May 2008 in which 62 people were killed simply for being "foreign" and thousands were turned overnight into refugees shook the South African nation. This book is the first to attempt a comprehensive and rigorous explanation for those horrific events. It argues that xenophobia should be understood as a political discourse and practice. As such its historical development as well as the conditions of its existence must be elucidated in terms of the practices and prescriptions which structure the field of politics. In South Africa, the history of xenophobia is intimately connected to the manner in which citizenship has been conceived and fought over during the past fifty years at least. Migrant labour was de-nationalised by the apartheid state, while African nationalism saw the same migrant labour as the foundation of that oppressive system. Only those who could show a family connection with the colonial and apartheid formation of South Africa could claim citizenship at liberation. Others were excluded and seen as unjustified claimants to national resources. Xenophobiaís conditions of existence, the book argues, are to be found in the politics of post-apartheid nationalism where state prescriptions founded on indigeneity have been allowed to dominate uncontested in conditions of an overwhelmingly passive conception of citizenship. The de-politicisation of an urban population, which had been able to assert its agency during the 1980s through a discourse of human rights in particular, contributed to this passivity. Such state liberal politics have remained largely unchallenged. As in other cases of post-colonial transition in Africa, the hegemony of xenophobic discourse, the book contends, is to be sought in the specific character of the state consensus.
Reviews
"This is a timely book as xenophobia, narrow nationalism and chauvinism afflict many of our societies. Many descriptions and lamentations exist; but this is among the first to give us an explanation. And it is preeminently a political explanation to do with state and popular politics. Xenophobic discourses are ultimately structured by the state but contested in civil societies. They are neither inevitable nor insurmountable and can be transcended to build truly emancipatory discourses and courses of action. That is the message of the book; a remarkable intervention in the murky waters of divisive ideologies."
Issa G. Shivji, University of Dar es Salaam
"Questions of how belonging and exclusion occur and what is at stake in assertions of citizenship lie at the very heart of modern social life. In this trenchant critique of liberal politics and sociality, Neocosmos probes the etiology of xenophobia in South Africa, implicating the discursive practices and the historical trajectory of the State and the hegemonic language and ideology of human rights in the emergence of xenophobic anxieties. In this analysis, and the prescription of an alternative politics that follows, the resolution to forms of marginality and disenfranchisement must be initiated in a space outside of the State, in the realm of the 'popular' and the 'emancipatory'."
Kavita Misra, Columbia University
"This book is, by a considerable distance, the most important attempt to theorise xenophobia in contemporary South Africa. Neocosmos rejects fashionable attempts to explain xenophobia in terms of postmodernity and globalisation and notes that it was in 1961 that Frantz Fanon described the kind of situation where 'foreigners are called on to leave; their shops are burned, their street stalls are wrecked.' For Neocosmos, following Fanon, the essence of the problem is in the politics of the post-colonial state. But Neocosmos does not only provide a diagnosis of the problem. His historicisation of the development of xenophobia in South Africa includes an examination of some of the actually existing emancipatory alternatives developed in the mass struggles against apartheid. He writes in fidelity to this tradition and for a recovery of popular emancipatory politics."
Richard Pithouse, Rhodes University