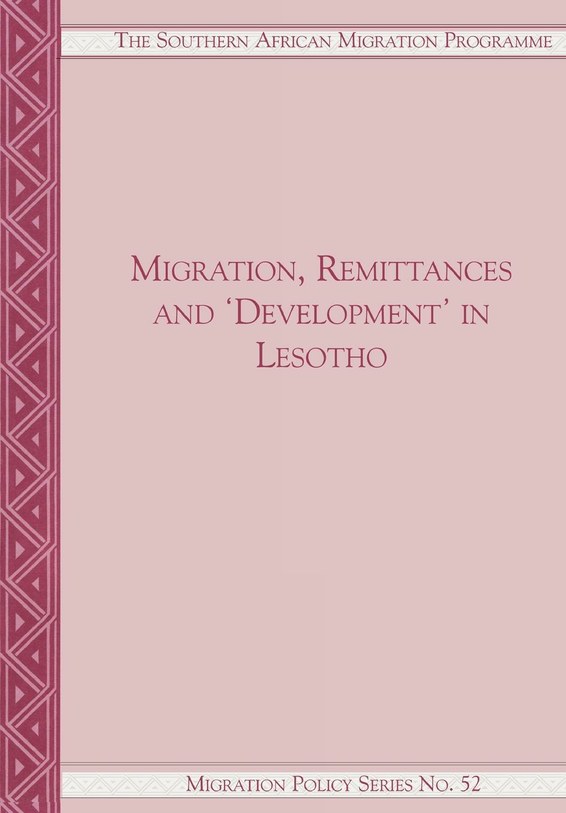 | | |
| --- | --- |
| ISBN | 9781920409265 |
| Pages | 96 |
| Dimensions | 244 x 170 mm |
| Published | 2010 |
| Publisher | Idasa, South Africa |
| Format | Paperback |
Migration, Remittances and Development in Lesotho
The relationship between migration, development and remittances in Lesotho has been exhaustively studied for the period up to 1990. This was an era when the vast majority of migrants from Lesotho were young men working on the South African gold mines and over 50 percent of households had a migrant mine-worker. Since 1990, patterns of migration to South Africa have changed dramatically. The reconfiguration of migration between the two countries has had a marked impact on remittance flows to Lesotho. The central question addressed in this report is how the change in patterns of migration from and within Lesotho since 1990 has impacted on remittance flows and usage.
Review
"This short book is unique in the data and information it contains, but Lesotho's situation is unique: still, this well written study is an essential acquisition for libraries interested in Lesotho or Southern Africa, but of little salience for other parts of the continent of for issues of migration and development more generally."
The African Book Publishing Record
About the Editors
Jonathan Crush is a Professor and CIGI Chair in Global Migration and Development at the Balsillie School of International Affairs, Waterloo, Canada, and an Honorary Professor at the University of Cape Town.

Belinda Dodson is Associate Professor and Undergraduate Chair in the Department of Geography at the University of Western Ontario, Canada.