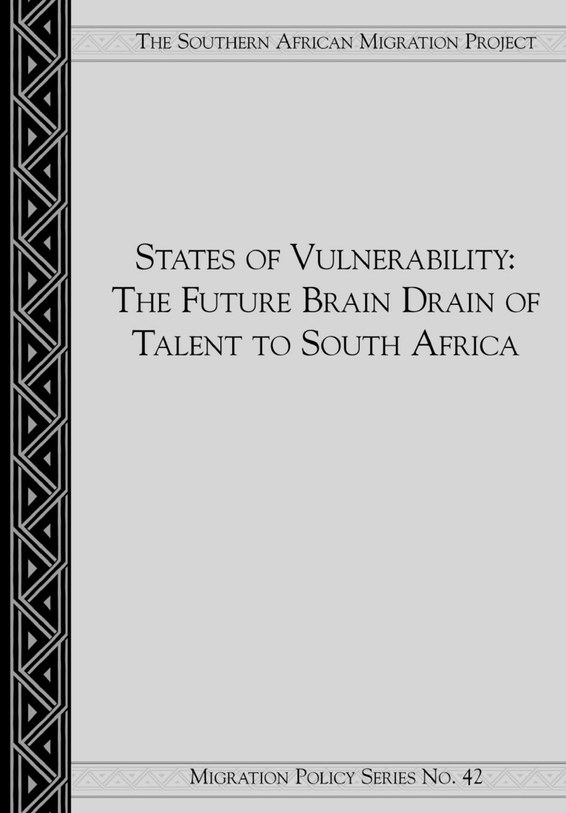 | | |
| --- | --- |
| ISBN | 9781920118075 |
| Pages | 68 |
| Dimensions | 244 x 170 mm |
| Published | 2007 |
| Publisher | Idasa, South Africa |
| Format | Paperback |
States of Vulnerability
The Brain Drain of Future Talent to South Africa
The 'brain drain', or skills emigration, is a major policy and research issues at national, regional and continental levels in Africa, trends having intensified in the 1980s and 1990s. The prevailing message is that only fundamental economic reform and improved quality of live will stem the search for employment overseas. To date however, the debate has been couched in binary terms: the South loses; the North gains. Brain drain within the South receives much less attention. To redress the balance, this study considers internal migration within the southern African sub-region, particularly in light of South African immigration policies.
The report presents the results of a baseline study of potential skills in six SADC countries: Botswana, Lesotho, Swaziland and Namibia, South Africa and Zimbabwe. It illustrates how the poorest countries - Zimbabwe, Lesotho and Swaziland - are the likely losers. South Africa gains regionally, but is losing skilled citizens to the North. The study highlights the contradiction between tight national immigration policies and the wider political pressures for stronger regional integration, arguing thismay yet present the most promising contingency.
About the Editor
Jonathan Crush is a Professor and CIGI Chair in Global Migration and Development at the Balsillie School of International Affairs, Waterloo, Canada, and an Honorary Professor at the University of Cape Town.