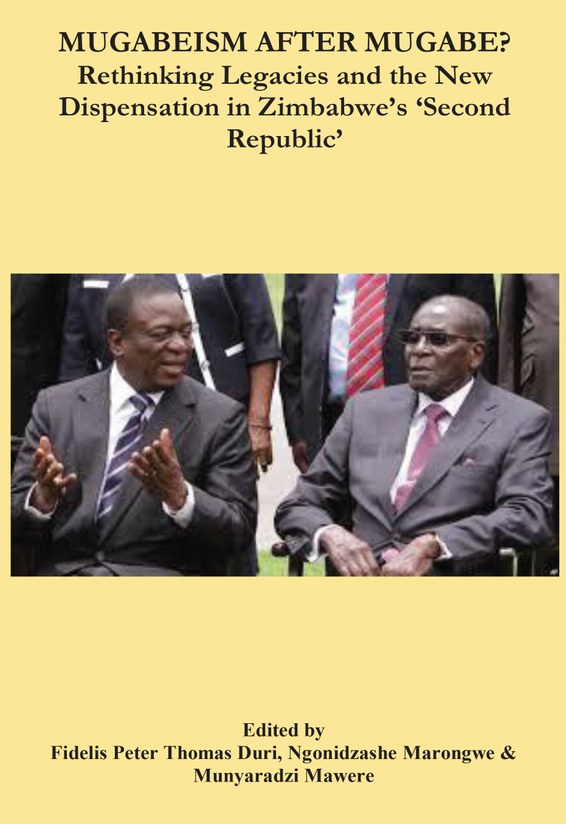 | | |
| --- | --- |
| ISBN | 9781779296252 |
| Pages | 512 |
| Dimensions | 229 x 152mm |
| Published | 2019 |
| Publisher | Africa Talent Publishers, Zimbabwe |
| Format | Paperback |
Mugabeism after Mugabe?
Rethinking Legacies and the New Dispensation in Zimbabwe's 'Second Republic'
Arguably, one of the long waited political handover of power, globally, happened in November 2017 in Zimbabwe when the former and now late 37- year long serving and divisive President, Robert Gabriel Mugabe was forced out of power by a combination of forces that were spearheaded by the military's Operation Restore Legacy. Mugabe's departure ushered in President Emmerson Dambudzo Mnangagwa's reign. This transition has variously been characterised as marking the inauguration of the Second Republic or New Dispensation or as heralding a new Zimbabwe that is 'Open for Business'. From the moment of the investiture of President Mnangagwa's government, anticipations of seismic changes to the order of doing business by both the incoming government and the larger Zimbabwean society in general, were extremely high. There was an expectation that international cooperation with global partners, especially in the West, would be restored alongside the reinvigoration of a near comatose domestic economy. But, did this ever happen?
This volume interrogates the impact of the introduction of the Mnangagwa administration from November 2017. The book seeks to broadly dissect and troubleshoot issues of continuity and change from Mugabe's reign into Mnangagwa's Second Republic. In doing so the book attempts to respond to the grand question: "To what extent has Mugabeism that was the hallmark of Mugabe's reign, continued or discontinued into the Second Republic?" The volume, which comes as a sequel to The end of an era? Robert Mugabe and a conflicting legacy, is sure to generate interest and responses from students and academics in the fields of History, International Studies, Political Science, Sociology and Social anthropology, as well as from practitioners in the human rights, transitional jusrtice, conflict resolution, security studies and diplomatic fields.
Review
"Throughout its 12 chapters, discusses the issues of Mugabe's ideology, the problems of democratization, good governance and development, health issues, land issues and the oligarchical nature of the ruling elite. In addition, the book outlines the lessons learned from Mugabe's rise and fall, whilst addressing the question of why African presidents often have long reigns in power."
About the Editors
Fidelis Peter Thomas Duri is a Senior Lecturer of History in the Department of Archaeology, Culture and Heritage, History and Development Studies at Great Zimbabwe University. 
Ngonidzashe Marongwe holds a PhD in African History from the University of the Western Cape, South Africa. He lectures in the Department of History and Development Studies, Joshua Nkomo School of Arts and Humanities, Great Zimbabwe University, Masvingo City, Zimbabwe.
Munyaradzi Mawere is a Professor in the Simon Muzenda School of Arts, Culture and Heritage Studies at Great Zimbabwe University. He holds a PhD in Social Anthropology; a Master's Degree in Social Anthropology; a second Master's Degree in Philosophy; a third Master's Degree in Development Studies; BA (Hons) Degree in Philosophy; Certificate in Tertiary and Higher Learning; Certificate in Information Technology; and a Certificate in Diplomacy, Negotiation and Bargaining. He is an author of more than 50 books and over 200 academic publications straddling the following areas: poverty and development studies, African philosophy, cultural philosophy, democracy, politics of food production, humanitarianism and civil society organisations, urban anthropology, existential anthropology, environmental anthropology, society and politics, religion, decoloniality and African studies.