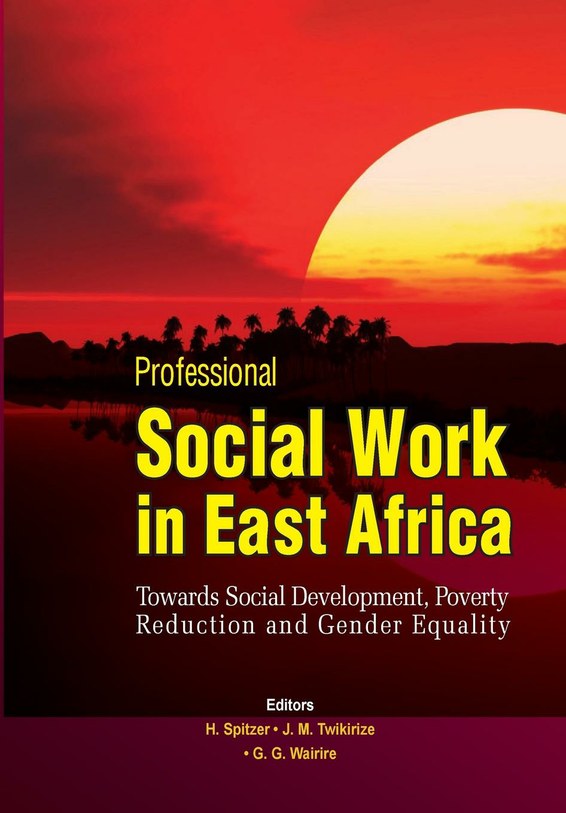 | | |
| --- | --- |
| ISBN | 9789970253678 |
| Pages | 418 |
| Dimensions | 244 x 170 mm |
| Published | 2014 |
| Publisher | Fountain Publishers, Uganda |
| Format | Paperback |
Professional Social Work in East Africa
Towards Social Development, Poverty Reduction and Gender Equality
Prevalent poverty and related problems in the East African region call for substantial action from various stakeholders, including social workers. This book, based on comprehensive empirical research, portrays an emerging yet powerful profession that has a significant role to play in the endeavour towards social development, social justice, human rights and gender equality. The book is the first of its kind to provide first-hand theoretical and empirical evidence about social work in East Africa.
Reviews
"The book raises the question of what social work's proper role and function should be in the context of East Africa's cultural, demographic, economic and political circumstances, and it is in this regard that it makes a particularly important international contribution."
James Midgley, Harry & Riva Specht Professor of Public Social Services, University of California, Berkeley, USA
"This comprehensive scholarly book on social work in East Africa is a most welcome addition to the global literature on professional social work. Insightful chapters on poverty reduction, development, gender perspectives and the state of social work will interest readers from around the world and serve as essential material for the region. It is an impressive milestone in advancing locally authored social work literature."
Lynne M. Healy (PhD), Board of Trustees Distinguished Professor, University of Connecticut, USA
"This is a cutting edge, innovative volume which considers the proper role and function of social work in East Africa. The book is both comprehensive and extensive in its coverage of issues, and will immensely enrich the discourse on the in vogue theme of social development. Diverse groups, including scholars, researchers, planners and policymakers interested in social work and social development in Africa will certainly find the publication a 'must consult' reference resource."
Rodreck Mupedziswa (PhD), Professor and Head, Department of Social Work, University of Botswana
About the Editors
Helmut SPITZER, PhD, is a Professor of Social Work at Carinthia University of Applied Sciences, Austria. He served as Overall Coordinator of the projects PROSOWO I (2011-2014) and PROSOWO II (2016-2018) on the promotion of professional social work in East Africa. His teaching, research and publications (in German and English) focus on international social work, social work methods, gerontological social work, children in especially difficult circumstances, crosscultural research, and social work in East Africa. The book Professional Social Work in East Africa: Towards Social Development, Poverty Reduction and Gender Equality (2014), which he published together with Janestic M. Twikirize and Gidraph G. Wairire, has become a major reference on social work in the East African region.
Janestic Mwende TWIKIRIZE, PhD, is a Senior Lecturer in the Department of Social Work and Social Administration, Makerere University, Uganda. She holds a PhD in Social Work and Social Development. Dr Twikirize served as the Vice President of the Association of Schools of Social Work in Africa (ASSWA) and as a board member of the International Association of Schools of Social Work (IASSW) from 2012 to 2018. She is a member of the editorial board of the journal International Social Work. She is the East Africa Regional Coordinator of PROSOWO, a six-member institutional academic partnership project to professionalise social work in East Africa. She has served as a Visiting Lecturer at Gothenburg University, Sweden, and University of Stavanger, Norway. Her research areas and published works focus on social work in Africa, indigenisation of social work, gender and child rights.
Gidraph Gachunga WAIRIRE (PhD) is a Senior Lecturer in the Department of Sociology and Social Work, University of Nairobi, Kenya. He is the immediate past Vice- President of the Association for Schools of Social Work in Africa (ASSWA). He served as the Regional Representative for Africa in the IASSW Board of Directors from March 2007 to October 2012. His main interests include social work theory and practice, community organisation, international social work, developmental social work, social work with minorities, comparative sociology and social action for social change. He was the regional coordinator and the Kenya country coordinator of the PROSOWO project.