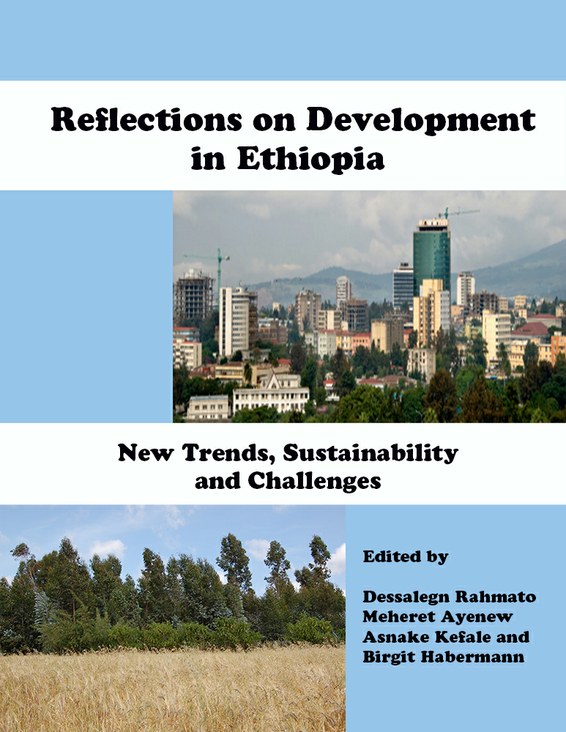 | | |
| --- | --- |
| ISBN | 9789994450527 |
| Pages | 306 |
| Dimensions | 244 x 170 mm |
| Illustrations | B/W Illustrations |
| Published | 2014 |
| Publisher | Forum for Social Studies, Ethiopia |
| Format | Paperback |
Reflections on Development in Ethiopia
New Trends, Sustainability and Challenges
This volume brings together a select number of studies which give a broader picture of the country's development program, examining not just the progress that has been made so far but also the challenges and pitfalls that are evident. This, we believe, makes the volume all the more topical and hence of interest to many readers. The book provides a good starting point for a balanced assessment of economic development in the last two decades with the primary purpose of stimulating informed debate on the Ethiopia's economy and development endeavor in this period.
The authors of the collection are based in academia, civil society organizations, and independent research institutions, and the contributions have come from economists as well as researchers in several other disciplines. As the diversity of the subject matter in the collection indicates, the work is not meant to be for economists only but is intended to attract a wider readership. We believe the book will be of interest to experts in government departments, development practitioners in civil society, academics, independent researchers, and people who have a special interest on Ethiopia and its future.
About the Editors
Dessalegn Rahmato won the 1999 Prince Claus Award in recognition of significant achievements in the field of research and development. He is a Senior Research Fellow at the Forum for Social Studies, and was formerly its Executive Director. He has published on land and agrarian issues, food security, environmental policy, and poverty in Wollaita. His current research is on civil society and democratisation.
Asnake Kefale has a long teaching experience at Addis Ababa University. His teaching and research interests include: governance, conflict studies, development policies and foreign relations in Ethiopia and the Horn of Africa sub-region region.