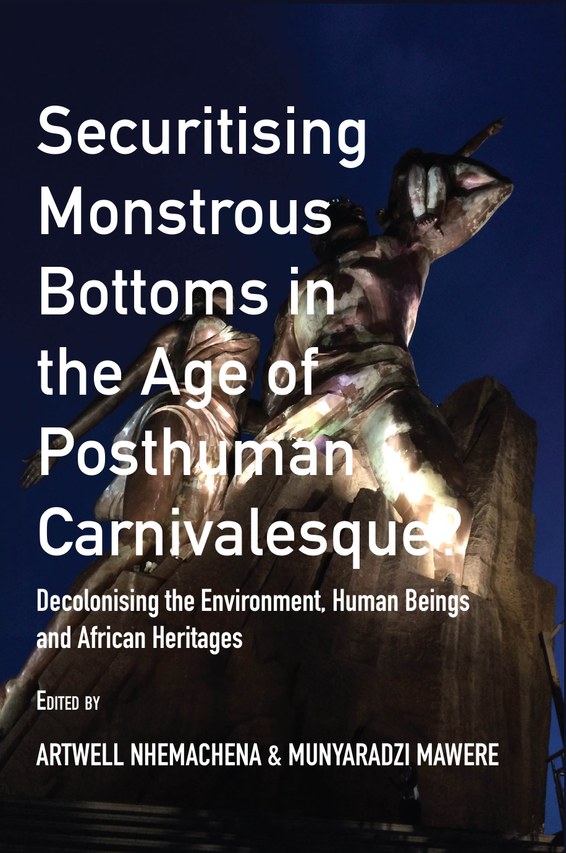 | | |
| --- | --- |
| ISBN | 9789956551040 |
| Pages | 396 |
| Dimensions | 229 x 152mm |
| Published | 2020 |
| Publisher | Langaa RPCIG, Cameroon |
| Format | Paperback |
Securitising Monstrous Bottoms in the Age of Posthuman Carnivalesque?
Decolonising the Environment, Human Beings and African Heritages
Placing security studies in the context of contemporary discourses about the "colonial comeback" and posthumanism, this book postulates the notion of staticide which avers that the effacement of African state sovereignty is crucial for the security of the oncoming empire. Understood in the light of posthumanism, antihumanism, animism, postanthropocentrism and transhumanism; African human security has evidently been put on a recession course together with African state security. Much as African states are demonised as so failed, defective, corrupt, weak and rogue to require recolonisation; transhumanism also assumes that human bodies are so corrupt, imperfect, defective, failed, rogue and weak to require not only enhancements or augmentation but also to beckon recolonisation. Also, deemed to be ecologies, human bodies are set to be liberalised and democratised in the interest of nonhuman viruses, nanobots, microchips, bacteria, fungi and other pathogens living within the bodies.
The book critically examines the security implications of theorising human bodies as ecologies for nonhuman entities. Reading staticide together with transhumanism, this book foresees transhumanist new eugenics that are accompanying the new empire in a supposedly Anthropocene world that serves to justify the sacrifice and disposability of some surplus humans living in the recesses and nether regions of the empire. Paying attention to the "colonial comeback", the book urges African scholars not to mistake imperial transformation for decolonisation. The book is invaluable for scholars and activists in African studies, anthropology, decoloniality, sociology, politics, development studies, security studies, sociology and anthropology of science and technology studies, and environmental studies.
About the Editors
Artwell Nhemachena holds a PhD in Social Anthropology from the University of Cape Town. He has lectured at a number of universities in Zimbabwe. Currently he lectures in Sociology at the University of Namibia. He has published journal papers, book chapters and books on violence and conflict, relational ontologies and resilience, environment, development, democracy, research methods, humanitarianism and civil society organisations, anthropological jurisprudence, mining, society and politics, religion, industrial sociology, decoloniality and social theory. He is a laureate and active member of CODESRIA since 2010. 
Munyaradzi Mawere is a Professor in the Simon Muzenda School of Arts, Culture and Heritage Studies at Great Zimbabwe University. He holds a PhD in Social Anthropology; a Master's Degree in Social Anthropology; a second Master's Degree in Philosophy; a third Master's Degree in Development Studies; BA (Hons) Degree in Philosophy; Certificate in Tertiary and Higher Learning; Certificate in Information Technology; and a Certificate in Diplomacy, Negotiation and Bargaining. He is an author of more than 50 books and over 200 academic publications straddling the following areas: poverty and development studies, African philosophy, cultural philosophy, democracy, politics of food production, humanitarianism and civil society organisations, urban anthropology, existential anthropology, environmental anthropology, society and politics, religion, decoloniality and African studies.