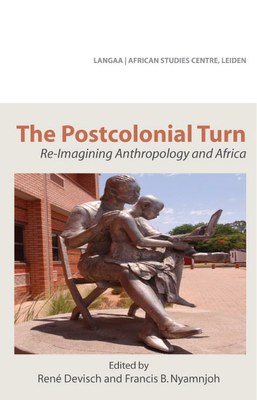 | | |
| --- | --- |
| ISBN | 9789956726653 |
| Pages | 466 |
| Dimensions | 216 x 140 mm |
| Published | 2011 |
| Publisher | Langaa RPCIG, Cameroon |
| Format | Paperback |
The Postcolonial Turn
Re-Imagining Anthropology and Africa
This innovative book is a forward-looking reflection on mental decolonisation and the postcolonial turn in Africanist scholarship. As a whole, it provides five decennia-long lucid and empathetic research involvements by seasoned scholars who came to live, in local people's own ways, significant daily events experienced by communities, professional networks and local experts in various African contexts.
The book covers materials drawn from Botswana, Cameroon, the Democratic Republic of Congo, Mozambique, Nigeria, South Africa and Tanzania. Themes include the Whelan Research Academy, rap musicians, political leaders, wise men and women, healers, Sacred Spirit churches, diviners, bards and weavers who are deemed proficient in the classical African geometrical knowledge. As a tribute to late Archie Mafeje who showed real commitment to decolonise social sciences from western-centred modernist development theories, commentators of his work pinpoint how these theories sought to dismiss the active role played by African people in their quest for self-emancipation. One of the central questions addressed by the book concerns the role of an anthropologist and this issue is debated against the background of the academic lecture delivered by René Devisch when receiving an honorary doctoral degree at the University of Kinshasa. The lecture triggered critical but constructive comments from such seasoned experts as Valentin Mudimbe and Wim van Binsbergen. They excoriate anthropological knowledge on account that the anthropologist, notwithstanding her social and cognitive empathy and intense communication with the host community, too often fails to also question her own world and intellectual habitus from the standpoint of her hosts. Leading anthropologists carry further into great depth the bifocal anthropological endeavour focussing on local people's re-imagining and re-connecting the local and global. The book is of interest to a wide readership in the humanities, social sciences, philosophy and the history of the African continent and its relation with the North.
Review
"The Postcolonial Turn is insightful and valuable reading for scholars and advanced students of anthropological, and more generally social scientific, engagements with Africa... This volume will provocatively engage the most seasoned Africanists. It will also be a valuable learning tool for advanced students of Africa who want to understand how African scholarship has significantly broadened the perspectives of anthropology. The Postcolonial Turn also compels us to be more reflexive, to account for both intercultural and intra-cultural variation and conflict, and for local systems of knowledge production in ways that complement and expand on understandings of the human condition and shape our models of both knowledge and consciousness."
African Affairs
About the Editors
René Devisch is emeritus professor from the Catholic University of Leuven, Institute for Anthropological Research in Africa.
Francis B. Nyamnjoh joined the University of Cape Town in August 2009 as Professor of Social Anthropology from the Council for the Development of Social Science Research in Africa (CODESRIA), Dakar, Senegal, where he served as Head of Publications from July 2003 to July 2009. He has taught sociology, anthropology and communication studies at universities in Cameroon and Botswana, and has researched and written extensively on Cameroon and Botswana. In October 2012 he received a University of Cape Town Excellence Award for "Exceptional Contribution as a Professor in the Faculty of Humanities". He is recipient of the "ASU African Hero 2013" annual award by the African Students Union, Ohio University, USA. He is: a B1 rated Professor and Researcher by the South African National Research Foundation (NRF); a Fellow of the Cameroon Academy of Science since August 2011; a fellow of the African Academy of Science since December 2014; a fellow of the Academy of Science of South Africa since 2016; and Chair of the Editorial Board of the South African Human Sciences Research Council (HSRC) Press since January 2011. His scholarly books include: Africa's Media, Democracy and the Politics of Belonging (2005); Insiders and Outsiders: Citizenship and Xenophobia in Contemporary Southern Africa (2006); "C'est l'homme qui fait l'homme": Cul-de-Sac Ubuntu-ism in Côte d'Ivoire (2015); and #RhodesMustFall: Nibbling at Resilient Colonialism in South Africa (2016).