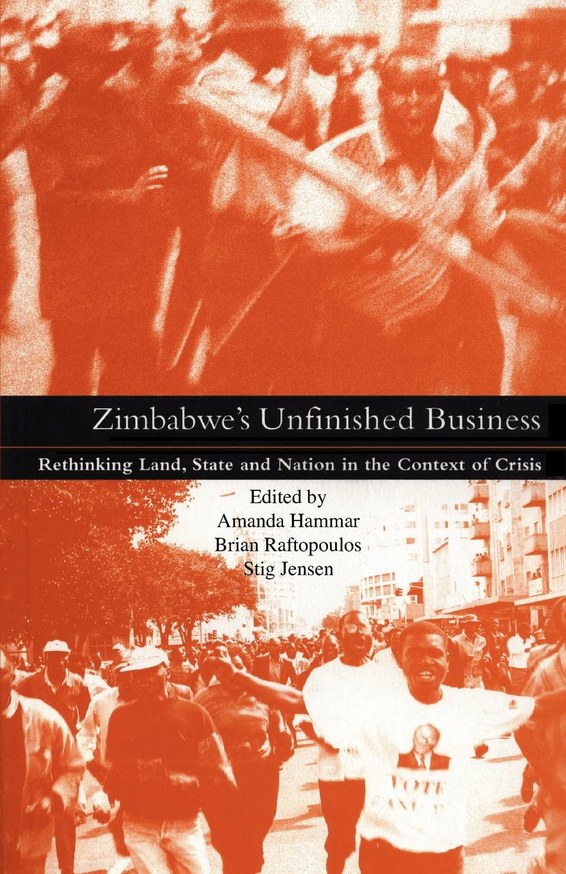 | | |
| --- | --- |
| ISBN | 9781779220110 |
| Pages | 332 |
| Dimensions | 216 x 140 mm |
| Published | 2003 |
| Publisher | Weaver Press, Zimbabwe |
| Format | Paperback |
Zimbabwe's Unfinished Business
Rethinking Land, State and Nation in the Context of Crisis
How is 'the land question' in Zimbabwe being reconstituted by the current political and economic crisis, and what does this mean for rethinking the state and redefining the contours of citizenship and nation in postcolonial Zimbabwe?
What do heightened assertions of sovereignty, increasingly violent modes of rule, deepening forms of authoritarian nationalism, and the narrowing of spaces of citizenship, reveal about the changing politics of land?
In the current context of crisis, new alliances and animosities are emerging that simultaneously disrupt old essentialisms and construct new ones. Zimbabwe's Unfinished Business aims to deconstruct and examine these new relations alongside Zimbabwe's changing dynamics of exclusion and inclusion. The book's starting point is that the crisis is multi-layered in both its provenance and its effects, and is rooted in the complex relationship between contestations over land, processes of rule and state making, and constructions of nation and citizenship.
In considering the crisis in Zimbabwe, the book neither reproduces the narrowly nationalist rhetoric of Zanu (PF), nor adopts uncritically the liberalist counter-position but, rather, argues for the analytic inseparability of questions of land, state, nation and citizenship.
Reviews
'Zimbabwe's Unfinished Business is an excellent collection of topical papers delivered at a conference in Copenhagen in September 2001 that focus on 'rethinking land, state and citizenship through the Zimbabwean crisis'.'
African Sociological Review
'History will doubtless judge the success or otherwise of Mugabe's controversial Fast Track land reform programme. In the meantime, anyone interested in contemporary Zimbabwe is strongly urged to read Zimbabwe's Unfinished Business.'
Oxfam
'This is a well researched and excellently written book which I have read that provides a nuanced and balanced analysis on the contemporary crisis in Zimbabwe.'
Sunday Independent, South Africa
About the Editors
Amanda Hammar is a Zimbabwean, currently based at the Nordic Africa Institute in Uppsala, Sweden, as a senior researcher coordinating a research programme on Political Economies of Displacement in Southern Africa. She worked for many years in development in southern Africa before embarking full time in research in the late 1990s. Her doctorate and subsequent work engages closely with questions of land, displacement and state making in the region. At the same time she retains a special interest in the dynamics and effects of political and economic crisis and transformation in Zimbabwe.
Professor Brian Raftopoulos is a leading Zimbabwean scholar and activist. Formally an Associate Professor of Development Studies at the University of Zimbabwe, he moved to Cape Town at the end of March 2006 and is currently the Director of Research and Advocacy in the Solidarity Peace Trust, an NGO dealing with human rights issues in Zimbabwe. He has published widely on Zimbabwean history, labour history, historiography, politics, and economic issues. Currently he is coordinating a book on the History of Zimbabwe with a group of Zimbabwean historians, as well as working on a study of The State and the Labour Question in Zimbabwe: 1945-2005. He is also on the Advisory Board of the Journal of Southern African Studies. In addition, Brian Raftopoulos has been a civic activist in Zimbabwe over the last decade. He was a member of the founding Task Force of the National Constitutional Assembly (NCA) 1998-2000, the editor of the NCA journal Agenda from 1999-2001, as well as the first Chair of the Crisis in Zimbabwe Coalition from 2001-2003.