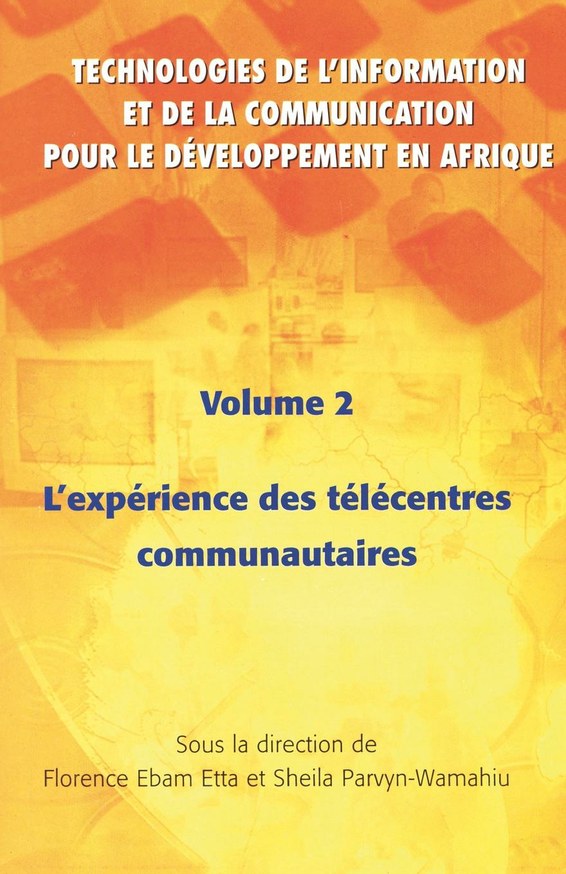 | | |
| --- | --- |
| ISBN | 9782869781160 |
| Pages | 240 |
| Dimensions | 216 x 140 mm |
| Published | 2005 |
| Publisher | CODESRIA, Senegal |
| Format | Paperback |
Technoligies de l'information et del la communication pour le developpment en afrique Vol.2
L'experience des telecentres communautaires
Depuis 1997, le programme Acacia du CRDI stimule l'utilisation et l'appropriation des technologies de l'information et de la communication par les communautés d'Afrique sub-saharienne afin de leur permettre de trouver des voies alternatives vers le développement socio-économique. Après huit années d'activités, Acacia tire les premières leçons de ce travail en publiant, en trois volumes, le fruit de ses recherches sur les technologies de l'information et de la communication pour le développement en Afrique.
Le Volume 2: L'expérience des télécentres communautaires examine l'organisation, le fonctionnement et le rôle des télécentres communautaires. Il décrit l'expérience des télécentres dans de nombreuses collectivités, généralement situées en milieu rural, et analyse les structures et les mécanismes de gestion mis en place pour les appuyer. L'ouvrage dresse un profil de l'utilisation des télécentres et traite des possibilités et des défis inhérents à la mise en place et à la gestion de télécentres communautaires dans un milieu caractérisé par une infrastructure d'information médiocre et un manque de main-d'œuvre qualifiée. Il sera utile aux chercheurs, aux responsables de l'élaboration des politiques et aux décideurs, ainsi qu'aux intervenants et aux professionnels du développement ayant des intérêts particuliers ou des programmes en place dans le domaine des TIC au service du développement, particulièrement ceux qui mettent l'accent sur l'accès universel et les centres de service universel ou d'accès public. Il constituera également un précieux outil de référence pour les universitaires, les étudiants et les enseignants.
The second in this series of studies on the state and status of ICTs in a development context in Africa examines the setting, operations and impacts of community telecentres. It describes the telecentres of a variety of local, and often rural communities, exploring the management structures and mechanisms that have been established to support them. The book profiles telecentre usage and discusses the potential and challenges of developing and maintaining community telecentres given poor information structures and limited human capacity. It further considers questions of universal and public access and progress thus far, towards achieving these goals.
About the Editor
Florence Ebam Etta is Senior Program Officer for Acacia in IDRC's Regional Office for Eastern and Southern Africa in Nairobi, Kenya.