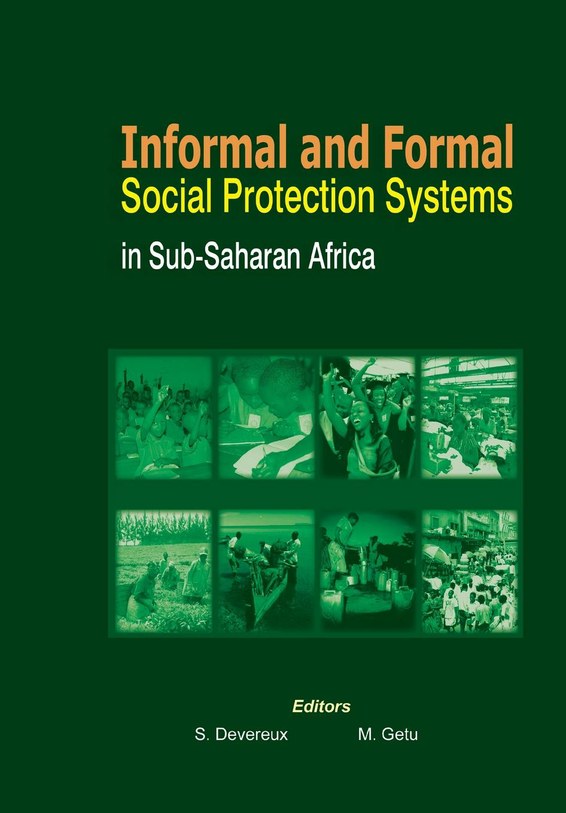 | | |
| --- | --- |
| ISBN | 9789970252411 |
| Pages | 316 |
| Dimensions | 244 x 170 mm |
| Published | 2013 |
| Publisher | Fountain Publishers, Uganda |
| Format | Paperback |
Informal and Formal Social Protection Systems in Sub-Saharan Africa
In recent years, social protection issues have gained unprecedented momentum in Africa. This is reflected in the fact that most African countries have either introduced or are considering social protection measures, as witnessed by initiatives within the African Union (AU), African national governments and their development partners in the international donor community. The 2004 'Ouagadougou Declaration and Plan of Action', the 2006 'Livingstone and Yaounde Calls for Action', the 2008 'African Union Social Policy Framework for Africa' and the 2010 'Social Ministers' Khartoum Declaration on Social Policy Action Towards Social Inclusion' are key milestones towards an Africa-wide consensus on the need for social protection. Many national governments are also in the process of establishing social protection strategies and policies. Unfortunately, most of them give little attention to the role or potential of informal social protection systems. This is despite the fact that the rural population and those who are engaged in the informal economy, which together constitute the bulk of these countries' populations, depend on informal social protection systems. The possibility of building on existing informal social protection systems and creating complementary linkages between the formal and informal systems is rarely considered by policy-makers and donor agencies in Africa. Instead, most attention is given to formal safety net programmes.
Addressing several themes in the social protection literature, this book makes an original and important contribution to the rapidly growing body of literature on social protection in sub-Saharan Africa. Some of the themes are relatively neglected or under-researched, while some others are not usually conceptualised as social protection. These themes are organised around the major issues: informal social protection, urban social protection, social protection and physical security, social protection in unstable contexts, climate change, pastoralism, and gender. In fact, the most significant challenge this book offers to current thinking and practice is in focusing attention on local or - indigenous' mutual support systems and institutions, sometimes characterised as 'informal' and 'semi-formal' social protection mechanisms, which are undervalued or even neglected in discourses of 'formal' social protection policy-making and programming. From the discussions presented by the different chapters, the book draws the conclusion that although the trend towards institutionalising social protection as a core government responsibility is welcome and should be encouraged, these formal social protection mechanisms could arguably be strengthened if they acknowledge and build on local experiences and cultural norms around reciprocity and mutual support.
About the Editors
Stephen Devereux has been a Research Fellow at the Institute of Development Studies, University of Sussex since 1996, where he was a founding Director of the Centre for Social Protection in 2005. A South African by birth, he obtained his DPhil in economics from Balliol College, Oxford, and now holds dual South African and British citizenships. His research interests include famine, food security and social protection, and he works almost exclusively in sub-Saharan Africa. His books include Theories of Famine; Food Security in Sub-Saharan Africa; The New Famines; Social Protection in Africa; Social Protection for Africa's Children; and Seasonality, Rural Livelihoods and Development. In 2011, he was appointed to the High Level Panel of Experts on Food Security and Nutrition of the Committee on World Food Security
Melese Getu received a PhD degree in social anthropology from the University of Manchester and is a Programme Specialist at OSSREA. Prior to that, he was a senior faculty member at Addis Ababa University where he worked from 1991 to 2010. He taught in the graduate programmes of Social Anthropology and Social Work, focusing on project management, social policy and ethics, gender and development and qualitative research methods. He also served as Associate Dean of the College of Social Sciences for three years; and Associate Dean and then Dean of the School of Social Work at Addis Ababa University for four years. He has several years of experience in multi-disciplinary research, and is a member of several professional associations. Melese has published several articles and book chapters and edited books, the most recent of which include: People at Risk: Towards a Comprehensive Social Protection Scheme in Ethiopia (2011). His research interests include conflict and natural resources management, pastoralism and development, gender and development, social policy, social protection and public health issues.