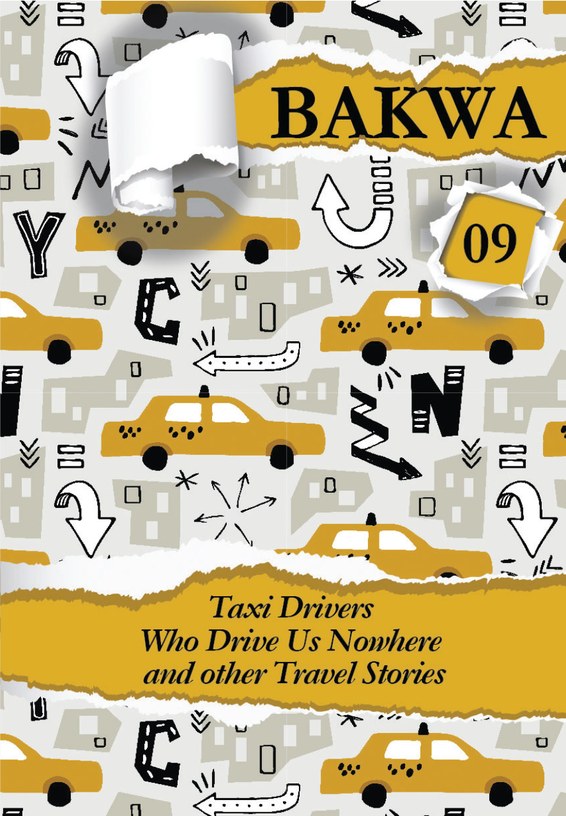 | | |
| --- | --- |
| ISBN | 9781733752619 |
| Pages | 118 |
| Dimensions | 210 x 148mm |
| Published | 2019 |
| Publisher | Bakwa Books, Cameroon |
| Format | Paperback |
Bakwa Magazine 09
Taxi Drivers Who Drive Us Nowhere and Other Travel Stories
In our first-ever print and entirely nonfiction issue, we explore what it means to travel as an African. Herein are stories about passport privilege and air and road trips to destinations diverse and peculiar-from Douala, Lagos, Lisbon, through Berlin, Sylt, Maputo to Kousseri. A journey down memory lane with the inglorious history of an airline, and a cab driver's unheralded analysis of Captain Marvel.
Bakwa 09 includes pieces from Florian Ngimbis, Anne-Marie Befoune, Yovanka Paquete Perdigao, Sada Malumfashi, Nkiacha Atemnkeng, Munukayumbwa 'Mimi' Mwiya, Howard M-B Maximus, Kay Ugwuede and Raoul Djimeli. It also features an online-only excerpt of the novel Whites Can Dance Too by Kalaf Epalanga.
About the Editor
Dzekashu MacViban is the author of Scions of the Malcontent and the founder of Bakwa Books and Bakwa Magazine. His fiction has appeared in Wasafiri, Kwani?, Jungle Jim, and elsewhere, and his writing has been translated into Japanese, German, French and Spanish. He is the recipient of an Akademie Schloss Solitude Fellowship.