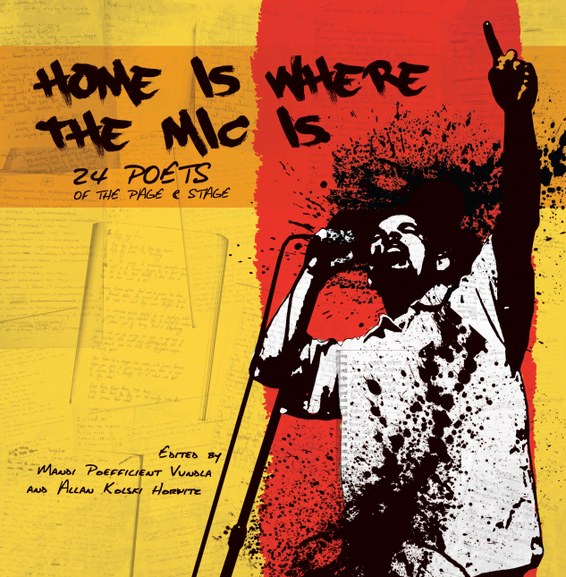 | | |
| --- | --- |
| ISBN | 9780981420547 |
| Pages | 190 |
| Dimensions | 216 x 216mm |
| Illustrations | B/W Illustrations |
| Published | 2015 |
| Publisher | Botsotso Publishing , South Africa |
| Format | Paperback |
Home is Where the Mic Is
This anthology presents the work of twenty-four young Spoken Word poets from South Africa, with a sprinkling of guests from the United States, Britain and Australia.
The experience of black youth in societies polarized by racism, inequality and gender violence whilst, at the same time, struggling to come to terms with love, sex and all the other basic needs of young people makes for fascinating reading. The inventive graphic layout is a fine addition to a stand out volume.
Home is Where the Mic Is was conceived as a collaboration with 'Word n Sound', a popular Johannesburg Spoken Word platform. The intention was to give hitherto only 'stage' poets an opportunity to test their work on the 'page' and confound the Eurocentric critics of the new wave of performance poetry who decry its energy and breaking down of artificial definitions of poetry. This is South African poetry standing on it's own two feet!
About the Editors
Mandi Poefficient Vundla is a Soweto-KZN Poet, Educator, Mentor and Founder of the Poetry Zone ZA: a poetry development agency focused on improving the quality of spoken word poetry in S.A. Having worked in the industry for over a decade, she utilizes her accumulated experience to mentor young emerging poets through the Brave Spoken Youth project. In 2022, Vundla was listed as one of MG200Young leaders and is currently working on her debut poetry album: A Love Song For Miriam.
ALLAN KOLSKI HORWITZ was born in 1952 in Vryburg, South Africa but grew up in Cape Town. Between 1974 and 1985 he lived in the Middle East, Europe and North America, returning to live in Johannesburg in 1986. Since then he has worked as an organiser and educator in the trade union and social housing movements. He is a writer in various genres as well as being a songwriter and singer. Since leaving full-time employment in the trade unions in 2009, he continues on an ad hoc with his work as an educator and activist. He is a member of the Botsotso Jesters poetry performance group and of the Botsotso Publishing editorial board.