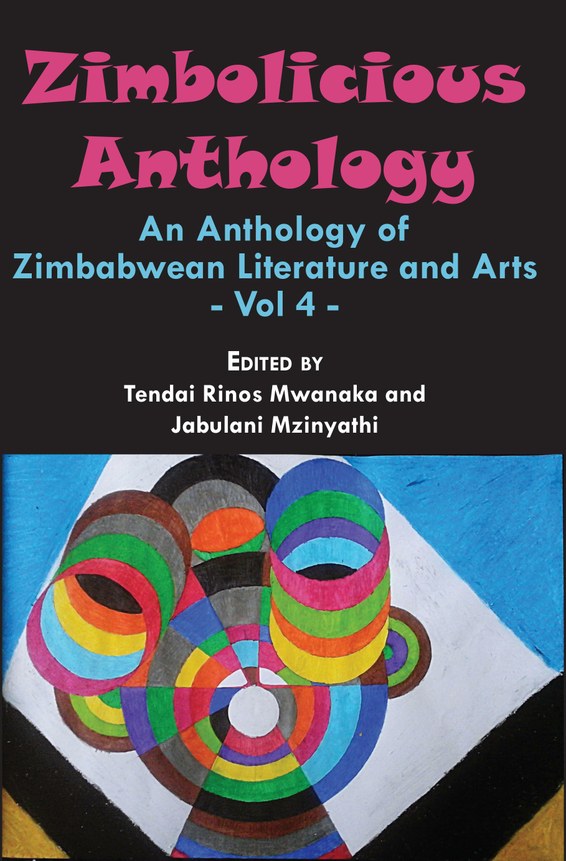 | | |
| --- | --- |
| ISBN | 9781779065049 |
| Pages | 156 |
| Dimensions | 234 x 156 mm |
| Illustrations | Colour Illustrations |
| Published | 2019 |
| Publisher | Mwanaka Media and Publishing, Zimbabwe |
| Format | Paperback |
Zimbolicious Anthology: Volume 4
An Anthology of Zimbabwean Literature and Arts
The latest Zimbolicious offering, Zimbolicious Anthology: An Anthology of Zimbabwean Literature and Arts, Vol 4, has nonfiction, poetry, an interview, fiction and incisive visual art. Works were received from regular contributors and relatively new artists. The poets with their collective audacious eye keenly observe society and reveal the pimples, warts and all that is afflicting the society; talk about the dying, already dead and decaying Zimbabwean currency or nonexistent currency, the emancipation of women, the grinding poverty and the political challenges Zimbabwe faces.  Others deal with spirituality and religion, love, growing up without a father figure. Nonfiction work leaves one under a barrage of questions: What it means to be a Zimbabwean, the defining and dissecting of Zimbabwe's literature, writing, self-publishing are put under serious scrutiny. Some delicious slices of the scenic Zimbabwean landscape are featured and a continuation in investigating what home is in a selection of visual art pieces The fiction is speculative, bittersweet and stays on your mind like a memory of that long, long forgotten summer of love as each fictionist deal with issues related to relationships, love, the lack of, the impermanence of which is an ever recurring leitmotiv in these works, thus therefore, this Zimbolicious is a must read, robust, incisive collection of Zimbabwean Literature and the arts.
About the Editors
Tendai. R. Mwanaka is a multi-disciplinary artist from Chitungwiza, Zimbabwe. His oeuvre of works touches on non-fictions, essays, poetry, plays, fictions, music, sound art, photography, drawings, paintings, video, collage, mixed media, inter-genres and inter-disciplines. His work has been published in over 300 journals, anthologies and magazines in over 27 countries.
Born in Gweru on 01.09.65 Jabulani Mzinyathi is a holder of a certificate in education [UZ, 1987] magistrates admission certificate [Judicial College Zimbabwe 1996] diploma in personnel management [IPMZ 2008]. He is a holder of a bachelor of laws degree [UNISA]. Jabulani Mzinyathi is a writer in general and a poet in particular. In 1997 he was awarded the Scottish International Open Poetry diploma for excellence. He has had several poems published in several local and international anthologies. His short stories, humour pieces and legal articles have been published locally and internationally. The self styled poet, philosopher, prophet loves the arts.