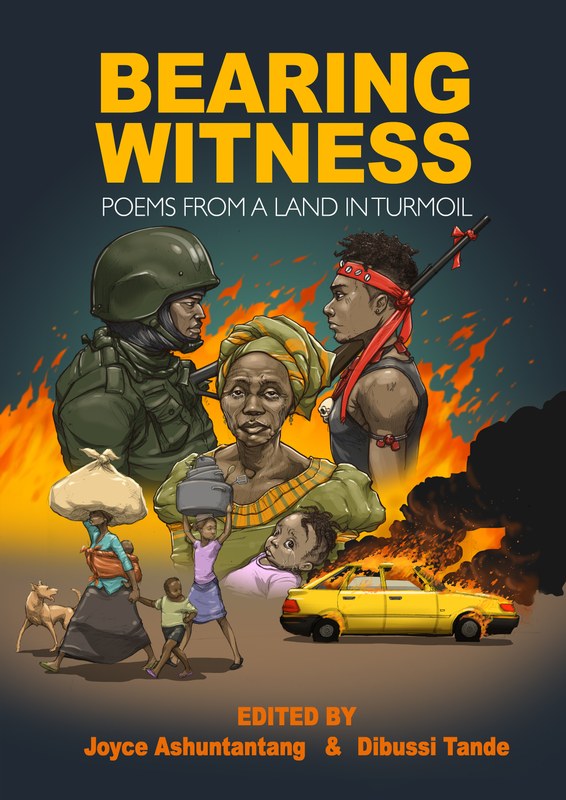 | | |
| --- | --- |
| ISBN | 9781942876540 |
| Pages | 224 |
| Dimensions | 229 x 152mm |
| Illustrations | B/W Illustrations |
| Published | 2020 |
| Publisher | Spears Media Press, Cameroon |
| Format | Paperback |
Bearing Witness
Poems from a Land in Turmoil
Bearing Witness: Poems from a Land in Turmoil is a poetic response to the devastating Anglophone Crisis/Ambazonian Conflict in Cameroon that has killed thousands of children, women and men, displaced over half a million people and left hundreds of communities in ruins. The poems in this volume capture an all-encompassing landscape marked by alienation, despair, displacement, loss, anger, trauma, as well as courage, hope, heroism, justice and resilience. These poems also engender psychic healing which has the potential of turning victims into survivors. With over 100 poems by 73 poets—seasoned and emerging, old and young, men and women—this collection is not only a guidepost of collective memory, but also the definitive literary work of this period in Cameroon's checkered history.
Reviews
"A fervent collection of poems that capture the anguish, resilience and hopes of a people determined to overcome."
Imbolo Mbue, author of the New York Times best seller "Behold the Dreamers," winner of the PEN/Faulkner Award for Fiction
"Bearing Witness: Poems from a Land in Turmoil is the record of a people's collective response to horrendous violence, injustice, and inhumanity. In a highly passionate and elegiac tone, these poets testify in poetic images the violence inflicted on the people of Anglophone Cameroon. Joyce Ashuntantang and Dibussi Tande have done a marvelous job in bringing together these anguished voices against inhumanity in Cameroon. This anthology is a major contribution to African conflict literature."
Tanure Ojaide, Frank Porter Graham Professor, The University of North Carolina at Charlotte
About the Editors
Joyce Ashuntantang (Joyce Ash) is a poet, actress, interdisciplinary scholar and Associate Professor of English at the University of Hartford, Connecticut. A graduate of universities on three continents, Dr. Ashuntantang received a B.A in English with a minor in Theater Arts from the University of Yaoundé, Cameroon, a Master's in Library and Information Science from the University of Aberystwyth, UK, and a Ph.D. in English/African Literature from the City University of New York. She is the author of many scholarly and creative publications, which include Landscaping Postcoloniality: The Dissemination of Cameroon Anglophone Literature (2009) and three poetry collections, Their Champagne Party will End: Poems in Honor of Bate Besong, co-edited (2008), A Basket of Flaming Ashes (2010) and Beautiful Fire (2018). She has appeared as an invited poet in many countries around the world including England, Germany, Nicaragua, Greece, Costa Rica, Colombia, Bangladesh, Cameroon and USA. She has also contributed to several international anthologies of poetry highlighting the plight of  minority groups including, Peace for Afrin, Peace for Kurdistan (2019), Hiraeth-Erzolirzoli: A Wales - Cameroon Anthology (2018), Poems for the Hazara (2014), Reflections: An Anthology of New Work by African Women Poets (2013) and We Have Crossed Many Rivers: New Poetry from Africa (2012). Her poems have been translated into Spanish, Greek, Hebrew, Turkish, Bangla, Arabic and Romanian. Her Awards include Spirit of Detroit Award for Leadership (1987), Ministry of Culture, Cameroon, Award for Outstanding Performance in Theater (1989, 1994), Belle K. Ribicoff Prize for Excellence in Teaching and Scholarship (2012) and Kathrak-Bangladesh Literary Award (2018).
Dibussi Tande is a political scientist, writer and poet who lives in Chicago. His articles have appeared in a variety of print and online publications such as the Rhodes Journalism Review, Focus on Africa Magazine, African Writing Online and African Muckraking, 75 Years of Investigative Journalism from Africa. He is the author of No Turning Back: Poems of Freedom 1990-1993 (2007) and co-editor of Their Champagne Party Will End! Poems in Honor of Bate Besong (2008). His poems have been published in several anthologies including Treasured Poems of America (1994) and Hiraeth-Erzolirzoli: A Wales - Cameroon Anthology (2018). Dibussi is also the author of Scribbles from the Den. Essays on Politics and Collective Memory in Cameroon (2009) and he produces the award-winning blog, Scribbles from the Den [https://www.dibussi.com]. His Twitter handle, @dibussi, is a leading source of news and analysis on Cameroon. Dibussi obtained a "Licence" in Public law and a "Maitrise" in Political Science from the University of Yaounde. He also holds Master's degrees in Political Science and Instructional Technology from Northeastern Illinois University, Chicago, and Northern Illinois University, DeKalb, respectively. He previously served as an Associate Editor for Cameroon Life Magazine and Cameroon Today.