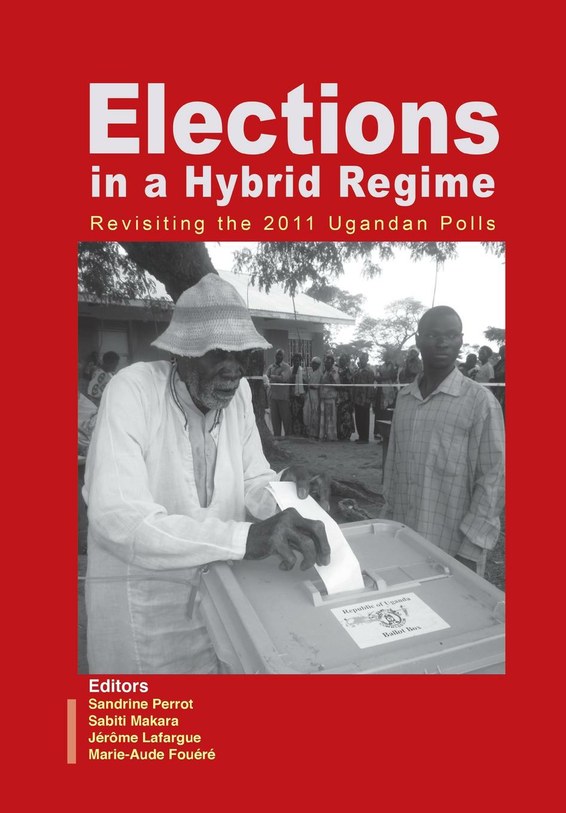 | | |
| --- | --- |
| ISBN | 9789970253418 |
| Pages | 512 |
| Dimensions | 244 x 170 mm |
| Published | 2014 |
| Publisher | Fountain Publishers, Uganda |
| Format | Paperback |
Elections in a Hybrid Regime
Revisiting the 2011 Ugandan Polls
How different were the 2011 elections? Did the political environment in the run-up to the elections restrict the capacity of political organisations to 'organise and express themselves'? Could the relative restriction of civil and political freedoms affect the pattern of voting and electoral outcomes? Do the election outcomes represent the people's view? To answer these questions, Elections in a Hybrid Regime: Revisiting the 2011 Ugandan Polls applies a multidisciplinary approach to conducting a multifaceted analysis of the 2011 elections in Uganda. Geographers, demographers, political scientists, and anthropologists contribute different in-depth political analyses, rather than partisan opinions or emotional reactions. The contributions assess Uganda's evolving electoral democracy and provides field-based insights into critical, often underappreciated, aspects of the electoral process. It is relevant for contemporary researchers, students, opinion leaders, international organisations, donors and policy practitioners in the fields of democracy and governance; comparative politics; political institutional building and African politics.
About the Editors
Dr Sandrine Perrot is a Senior Research Fellow in Political Science at the Center for International Studies (CERI), Paris, France
Sabiti Makara is a Senior Lecturer in the Department of Political and Public Administration at Makerere University. He teaches Comparative Public Administration. His research interests are in the areas of urban governance, decentralisation, civil society and electoral processes. He has edited two previous volumes on Uganda's electoral process. His most recent article, "Uganda's 2006 Multiparty Elections: Consolidating Democracy and Building Peace?" has appeared in East African Journal of Peace and Human Rights (2007).
Jerome Lafargue is researcher in Political Science and ex-Deputy Director at IFRA. He is now Lecturer at University of Pau and Pays de l'Adour, France.
Marie-Aude Fouéré is an Associate Professor in Anthropology at the Ecole des hautes études en sciences sociales (EHESS) in Paris. She worked several years at the French Institute for Research in Africa (IFRA) in Nairobi, Kenya, as Deputy Director then Director. Her research interests cover belonging, nationalism from below, collective memories and the uses of past - notably the ordinary uses of archives and of material remains -, focusing on Tanzania's Ujamaa, the figure of Julius Nyerere, and the Revolution of 1964 in Zanzibar. She is also interested in elections in their relation to memory and identity, and in the epistemology of social science.