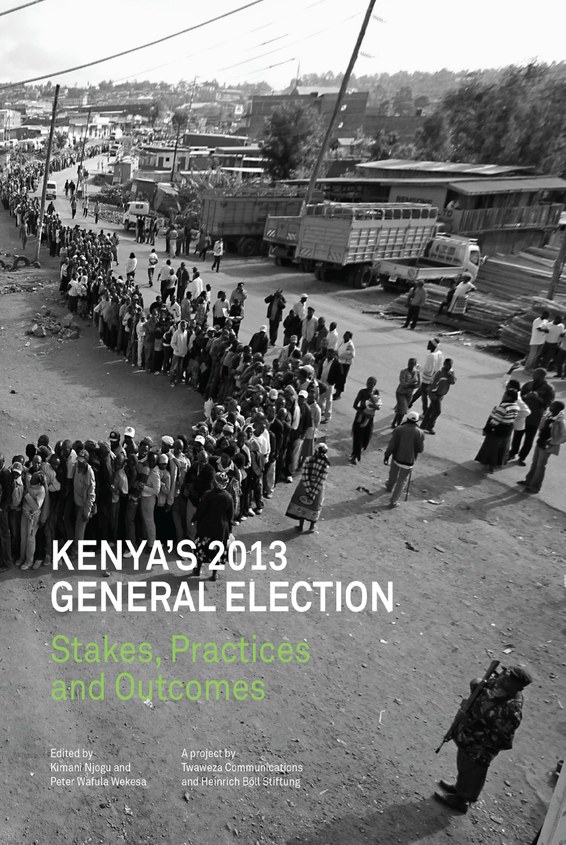 | | |
| --- | --- |
| ISBN | 9789966028563 |
| Pages | 384 |
| Dimensions | 234 x 156 mm |
| Published | 2015 |
| Publisher | Twaweza Communications, Kenya |
| Format | Paperback |
Kenya's 2013 General Election
Stakes, Practices and Outcome
When voters enthusiastically turn up to cast their vote  during general elections, they expect that their action would meaningfully change their lives. But in most of Africa, even when elections are held on a regular basis, voters are quite often disappointed by the performance of their leaders  who use the new positions as an opportunity to loot public resources and consolidate power. It is almost as if elections are of minimal value to the populace. Notwithstanding this trend, when they are free and fair, general elections can be transformative. They can bring into the political arena men and women of integrity committed to service and account-ability. Inspired by the determination to have inclusive governance and the advancement of democracy, Kenya's 20∂3 General Election: Stakes, Practices and Outcomes asks important questions related to political participation, coalition building, politics of identity, the international criminal court, electoral systems and institutions, and the judiciary. The papers are written by mainly Kenyan academics and  civil society actors who examine the drivers of the 20∂3 general elections and the sources of the mandate to lead.This book is part of publications by Twaweza Communications on democratic practice and accountable governance in Kenya.
About the Editors
Peter Wafula Wekesa, lectures in the Department of History, Archeology and Political Studies, Kenyatta University. 
Kimani Njogu, an Associate Professor of Kiswahili and African Languages, is a Director of Twaweza Communications and Africa Health and Development International (AHADI). He is a translator of significant works into Kiswahili and has been involved in developing socially committed entertainment programs globally. He has provided training on culturally sensitive and issue based entertainment programming in Kenya, Tanzania, Namibia, India, China, St. Lucia, Grenada, Madagascar, Peru, Pakistan, Palau, Nigeria, Laos, Mexico and Peru, among other countries. Kimani is also a writer, literary critic and columnist and his Kiswahili book Ufundishaji wa Fasihi: Nadharia na Mbinu on the teaching of literature won the 2000 Noma Award for Publishing in Africa.