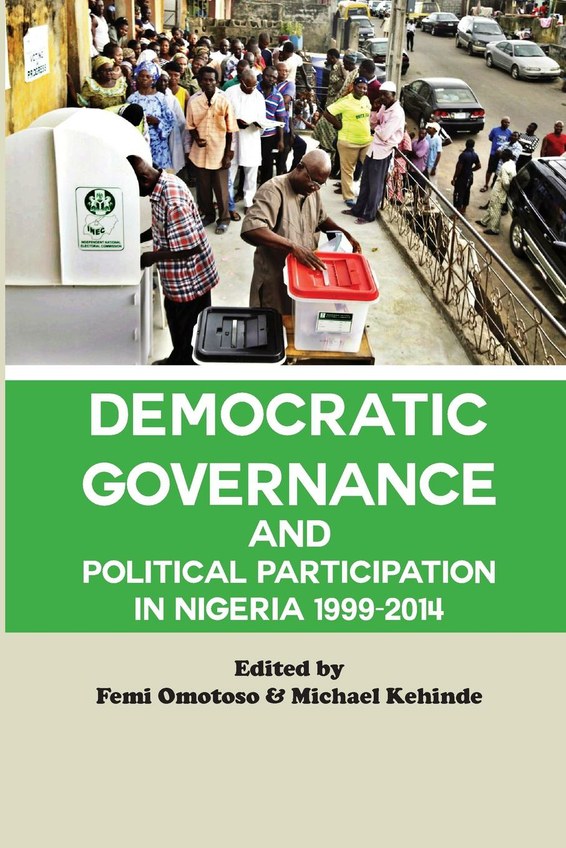 | | |
| --- | --- |
| ISBN | 9781942876113 |
| Pages | 568 |
| Dimensions | 234 x 156mm |
| Published | 2016 |
| Publisher | Spears Media Press, Cameroon |
| Format | Paperback |
Democratic Governance and Political Participation in Nigeria
1999 - 2014
The year 1999 was a watershed in the history of Nigeria as it witnessed the peaceful transfer of power from the military to the political class. Given Nigeria's tumultuous history of successive military interventions, this development was the first 'genuine' transition that saw the military elite transferring political power to civilians without itching to stage a comeback. This edited volume, composed of 22 chapters discusses the form, trajectory and substance of democratic governance in post-military Nigeria between 1999 and 2014. It is a compilation of well researched essays and narratives on Nigerian government and politics. The book is a multi-disciplinary assessment of Nigeria's democratic strides, including contributions from scholars in a broad range of disciplines such as history, sociology and anthropology, political science, economics, international relations, among others.
The book examines the factors responsible for the resilience of the current democratic governance structures, in spite of centripetal and centrifugal forces frustrating democratic consolidation in the country. It equally interrogates these factors and makes appropriate recommendations for overcoming them. Key themes covered in the book in the Boko Haram insurgency, governance and corruption, militancy, sharia law, Islamic banking amongst others. It sheds light on contending issues affecting, afflicting and retarding the country's progress. Issues like ethnicity, electoral corruption, human rights abuses, privatization of national assets, kidnapping and armed robbery, overbearing leadership personality and many more are critically discussed. Local government autonomy and the challenges of grassroots development and civil service administration are also thoroughly analysed.
Democratic Governance and Political Participation in Nigeria 1999-2014 is a detailed, exhaustive, deep, stimulating and captivating narrative of the Nigerian situation. It is enthusiastically recommended for those who wish to know more about contemporary Nigerian history. As a collection of contemporary issues on the Nigerian government and politics, the book is recommended for courses in politics and governance in Nigeria in particular and Africa in general. It is an invaluable companion for both graduate and undergraduate students as well as scholars of African politics.
About the Editors
Dr. Femi OMOTOSO obtained his Ph.D. in Political Science from the University of Ibadan. He is currently a Professor of Political Science at Ekiti State University, Ado Ekiti, Nigeria. He was formerly a Professor, Obafemi Awolowo University, Ile Ife, Nigeria. He focuses on Political Behaviour, Federalism and Governance. His papers have appeared in several reputable local and international journals as well as edited books.
Dr. Michael KEHINDE holds a Ph.D. in Political Science from Durham University in the UK. He was associate lecturer in African Politics at Newcastle University, UK between 2008 and 2010. Michael completed a postdoctoral fellowship at the Pennsylvania State University in the USA. He also taught Political Science at Lagos State University, Nigeria. Dr. Kehinde is presently diversity and inclusion lead at the Ontario Ministry of Government and Consumer Services, Toronto, Canada.