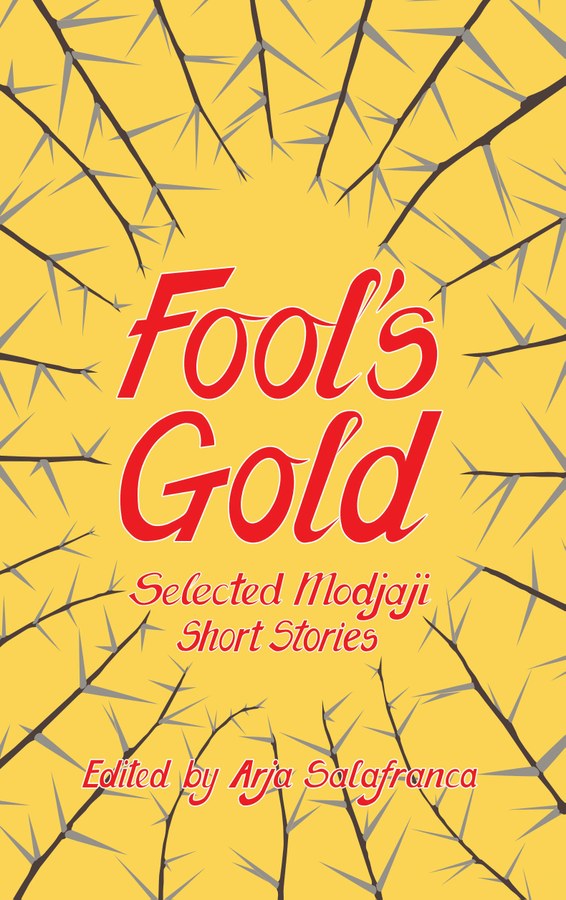 | | |
| --- | --- |
| ISBN | 9781928215844 |
| Pages | 216 |
| Dimensions | 216 x 140mm |
| Published | 2019 |
| Publisher | Modjaji Books, South Africa |
| Format | Paperback |
Fools' Gold
Selected Modjaji Short Stories
An anthology of selected short stories, all of which were previously published in an individual writer's collection or in either Stray or The Bed Book of Short Stories published by Modjaji Books. The authors include Sarah Lotz (internationally best selling author), Lauri Kubuitsile, Makhosazana Xaba, Meg Vandermerwe, Arja Salafranca, Wame Molefhe, Jolyn Phillips, Melissa de Villiers, Sandra Hill, Reneilwe Malatji, Jayne Bauling, Jo-Ann Bekker, Julia Martin, Isabella Morris, Alex Smith, Isabella Morris and Colleen Higgs.
Several of the authors went on to win awards for their collections, see below, and one of the stories was shortlisted for the Caine Prize. Modjaji has a proud history of publishing debut short story collections that are successful in literary and sales terms. There are few other publishers who take the risk of publishing debut short story collections.
Fools Gold was a finalist in the 2021 NIHSS Awards.
Review
"The collection brings together works by emerging and established artists which, through their diverse topics and forms, offer a vivid account of the press's commitment to forward-thinking expression. The collection thus highlights as well the power of the short story, which, as Salafranca writes, "can evoke a world, a moment or a bright epiphany, that lingers and reverberates long after the initial reading."
About the Editor
Arja Salafranca has published three collections of poetry, A Life Stripped of Illusions, which received the Sanlam Award for poetry, The Fire in which we Burn; and Beyond Touch (2015) which was a co-winner of the SALA Awards. Her fiction has been published online, in anthologies and journals, and is collected in her debut collection, The Thin Line, long listed for the Wole Soyinka Award. She has participated in a number of writers' conferences, edited two anthologies and has received awards for her poetry and fiction. Her next book is a collection of creative non-fiction essays, travel writing, personal essays and journal entries, to be published by Modjaji in 2019. She lives in Johannesburg.