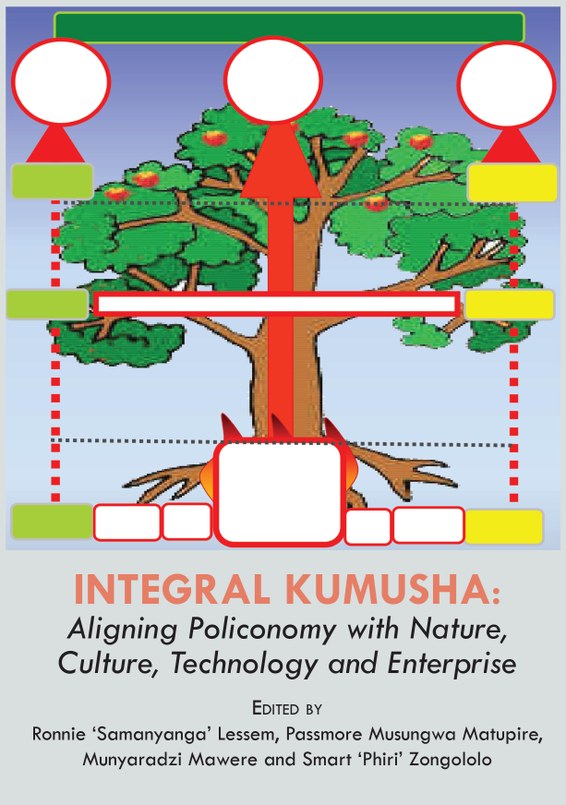 | | |
| --- | --- |
| ISBN | 9781779063618 |
| Pages | 248 |
| Dimensions | 297 x 210 mm |
| Illustrations | Colour Illustrations |
| Published | 2019 |
| Publisher | Africa Talent Publishers, Zimbabwe |
| Format | Paperback |
Integral Kumusha
Aligning Policonomy with Nature, Culture, Technology and Enterprise
The world is in crisis and in need of an economic and political regeneration–what is termed in this book "policonomy". Such a GENEA-tic transformation calls for an awakening of integral consciousness at all levels. For this to be realized the authors posit that "southern" nature and community i.e. integral kumusha should locally lead the regeneration, with "eastern" Culture and spirituality following locally-globally in its wake, while "northern" science and technology –Communications-comes in newly, globally next, and the "western" economy and enterprise, that is Capital, should globally-locally follow the rest, altogether embodied in a newly polynomic Constitution. Such a unique transformational rhythm is what is sought and to co-evolve in Zimbabwe, in Africa and the rest of the world, thereby regenerating (C)umusha, Culture, Communictions, Capital and a trans-modern Constitutio: the 5 C's, in theory and in practice.  
The authors, in Zimbabwe, see for such re-GENE-ration in the integral worlds and rhythm, of the country. Their argument is that such a newly constituted policonomy is best served by a Communiversity, as an integral and de-colonised version of the university. This Communiversity originates from the natural and communal, local 'South'–Learning Communities; then turn culturally and spiritually, locally-globally to the 'East'–as a so-called Developmental Pilgrimium thereafter turning newly globally, scientifically and technologically to the 'North'-Research academy; and only thereafter, globally-locally to the 'West' building economically and enterprise-wise on the rest in the guise of Socio-economic integral Laboratories. The aim of this study is that this transformative approach will appeal to business people, researchers, policy makers, social scientists and the academia serving to align policonomy with nature, culture, technology and enterprise.
About the Editors
Professor Ronnie 'Samanyanga' Lessem is Co-founder of Trans4m, and the Integral Worlds approach to research and development, economics and enterprise.
Passmore Musungwa Matupire holds a PhD from Da Vinci/Trans4m. He is a Zimbabwean Leadership development facilitator/consultant/coach with over 30 years of corporate experience at public companies in Zimbabwe and Botswana.
Munyaradzi Mawere is a Professor in the Simon Muzenda School of Arts, Culture and Heritage Studies at Great Zimbabwe University. He holds a PhD in Social Anthropology; a Master's Degree in Social Anthropology; a second Master's Degree in Philosophy; a third Master's Degree in Development Studies; BA (Hons) Degree in Philosophy; Certificate in Tertiary and Higher Learning; Certificate in Information Technology; and a Certificate in Diplomacy, Negotiation and Bargaining. He is an author of more than 50 books and over 200 academic publications straddling the following areas: poverty and development studies, African philosophy, cultural philosophy, democracy, politics of food production, humanitarianism and civil society organisations, urban anthropology, existential anthropology, environmental anthropology, society and politics, religion, decoloniality and African studies.