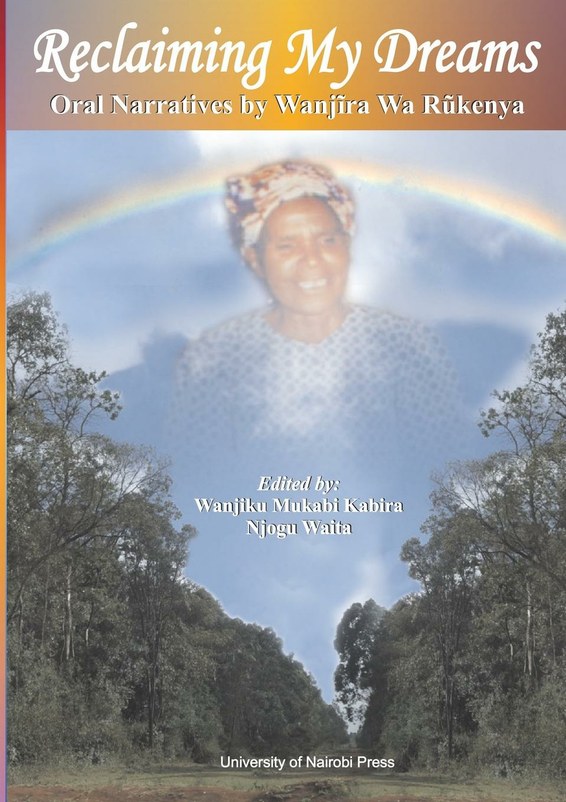 Reclaiming My Dreams
Oral Narratives by Wanjira Wa Rukenya
A woman yearns for self-assurance to be a woman of dreams, of song and poetry. The feel of life, buried by over socialisation and domestication processes, oppressed by the surrounding culture and dealing with a problem without a name, is lifted in the process of dreaming, singing songs and reciting poetry. That is the woman Wanjira becomes when she narrates stories. She reclaims her dreams through her stories. She reclaims her wellness, hope, independence and strength. You see the sparkle in her eyes when she talks abut dances, courtship, beauty, children, love, courage, determination, joy, and womanhood.
Reclaiming My Dreams: Stories by Wanjira wa Rukenya is thus, an individual artist's work. It goes a long way in helping students appreciate the narrative genre and understand the creative role of individual artists. This understanding demystifies the idea that anybody and everybody in the African society is a storyteller; an assertion that has belittled the artistry of African Oral Literature. The book makes us appreciate our cultural heritage. Students of literature in Secondary Schools and in higher institutions of learning will find this book useful.
About the Editors
Wanjiku Mukabi Kabira is Associate Professor of Literature and Director, African Women Studies Centre, University of Nairobi Kenya.
Njogu Waita is a Senior Lecturer in Literature and Media Studies at Chuka University College, Kenya.