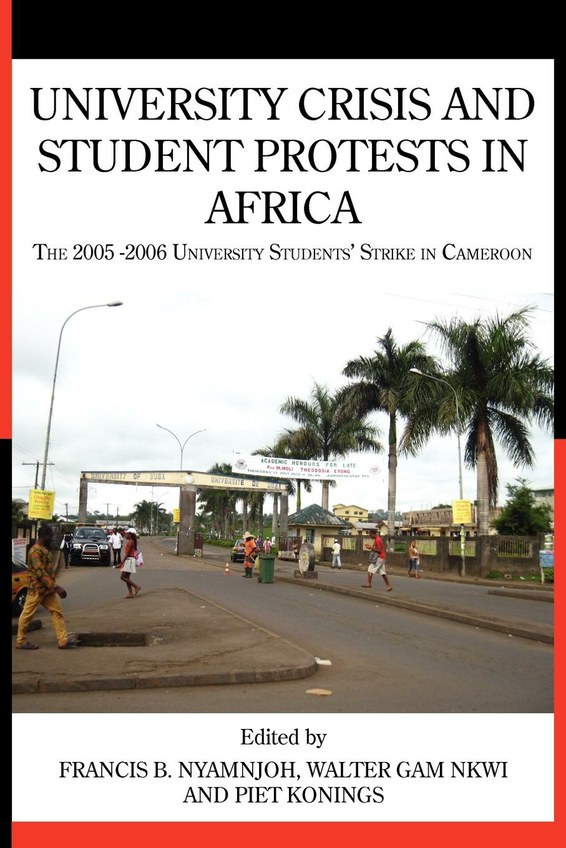 | | |
| --- | --- |
| ISBN | 9789956727070 |
| Pages | 342 |
| Dimensions | 229 x 152 mm |
| Published | 2012 |
| Publisher | Langaa RPCIG, Cameroon |
| Format | Paperback |
University Crisis and Student Protests in Africa
The 2005 -2006 University Students' Strike in Cameroon
Faced with a deepening crisis in their universities, African students have demonstrated a growing activism and militancy. They have been engaged in numerous, often violent, strikes for improvements in their deteriorating living and study conditions and the introduction of a democratic culture in the universities and society as a whole, including the right to express their views, organise in student unions and participate in university management.
This book focuses on a recent violent strike action in Cameroon's state universities, with special attention to the University of Buea – the only English-speaking university in the country between 1993 and 2011. Such a detailed study on student strikes is still rare in African studies, and maybe even more important, this book pays special attention to certain elements that have been of great significance to the strike but are often overlooked in narratives of other student actions in Africa, namely the use of cell phones, differences in gender roles of student activists, the religious dimensions of the strike, the central role of some public spaces like bars and cafés for the planning and execution of student strikes, and the power of the photocopier.
The book goes far beyond simply documenting the various protest actions of students against the state and university authorities. It also provides ample room for comments from journalists and other civil-society members and groups on various aspects of the strike.
About the Editors
Francis B. Nyamnjoh joined the University of Cape Town in August 2009 as Professor of Social Anthropology from the Council for the Development of Social Science Research in Africa (CODESRIA), Dakar, Senegal, where he served as Head of Publications from July 2003 to July 2009. He has taught sociology, anthropology and communication studies at universities in Cameroon and Botswana, and has researched and written extensively on Cameroon and Botswana. In October 2012 he received a University of Cape Town Excellence Award for "Exceptional Contribution as a Professor in the Faculty of Humanities". He is recipient of the "ASU African Hero 2013" annual award by the African Students Union, Ohio University, USA. He is: a B1 rated Professor and Researcher by the South African National Research Foundation (NRF); a Fellow of the Cameroon Academy of Science since August 2011; a fellow of the African Academy of Science since December 2014; a fellow of the Academy of Science of South Africa since 2016; and Chair of the Editorial Board of the South African Human Sciences Research Council (HSRC) Press since January 2011. His scholarly books include: Africa's Media, Democracy and the Politics of Belonging (2005); Insiders and Outsiders: Citizenship and Xenophobia in Contemporary Southern Africa (2006); "C'est l'homme qui fait l'homme": Cul-de-Sac Ubuntu-ism in Côte d'Ivoire (2015); and #RhodesMustFall: Nibbling at Resilient Colonialism in South Africa (2016).

Walter Gam Nkwi is an Associate Professor of History, University of Buea, Cameroon. His research interests include: Migration, Social History and relationship between Technology and Society.
Piet Konings is a sociologist of development and a senior researcher at the African Studies Centre in Leiden (The Netherlands). He has published widely on socio-political and economic developments in Ghana and Cameroon. His most recent books include Trajectoires de Libération en Afrique Contemporaine (Karthala, 2000), Negotiating an Anglophone Identity: A Study of the Politics of Recognition and Representation in Cameroon (Brill, 2003), and Crisis and Creativity: Exploring the Wealth of the African Neighbourhood (Brill, 2006).