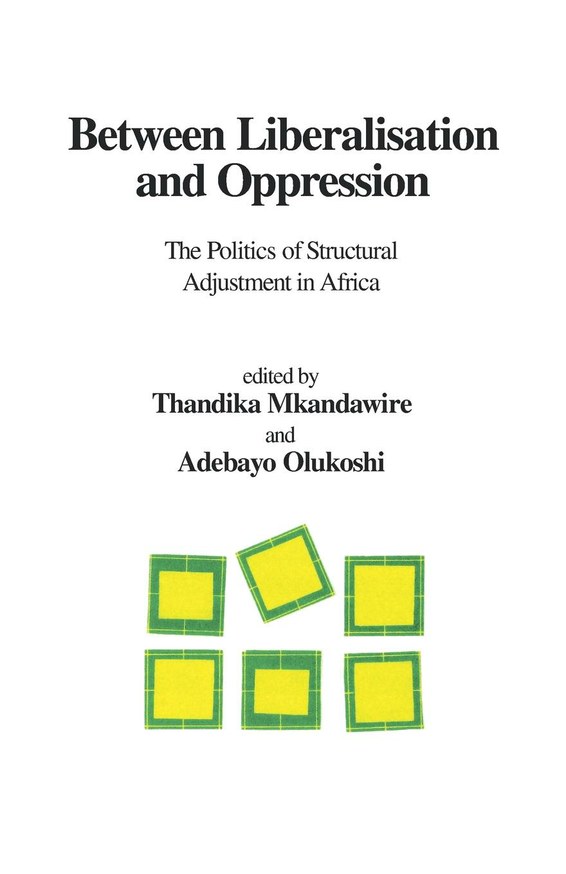 | | |
| --- | --- |
| ISBN | 9782869780538 |
| Pages | 440 |
| Dimensions | 216 x 140 mm |
| Published | 1995 |
| Publisher | CODESRIA, Senegal |
| Format | Paperback |
Between Liberalisation and Oppression
The Politics of Structural Adjustment in Africa
No one can fail to be aware of the incredible impact that the IMF and the World Bank have had on Africa. Their structural adjustment programmes were deliberately designed to shock African economies into free market reform and ensuing stability. But when `getting the prices right' first swamped the World Bank's African economic plans in the early 1980s, few bothered to analyse the politics of a reform package whose immediate impact was violent and unsettling. While Africa has come a long way since then, the goal of market reform must be as important as the task of understanding the politics of unleashing the forces of the market. Not least, is the question of democratisation, which the Bank itself now attempts to force through with loan conditions.
This book is the culmination of intense debate by African authors across the continent. Three sections make up a comprehensive analysis of adjustment regimes, their perspectives and the political context in which they have survived, or not. Country case studies in both anglophone and francophone Africa round up the analysis.
About the Editor
Professor Thandika Mkandawire is the first to hold the Chair in African Development at the London School of Economics and Political Science (LSE). He is also the Olof Palme Professor for Peace with the Institute for Future Studies in Stockholm. He has been the Director of the United Nations Research Institute for Social Development and Director of the Council for the Development of Social Science Research in Africa (CODESRIA). He was a Senior Research Fellow at the Centre for Development Research in Copenhagen and has taught at the Universities of Stockholm and Zimbabwe. His research interests include development theory, economic policy, development and social policy in developing countries, and the political economy of development in Africa.