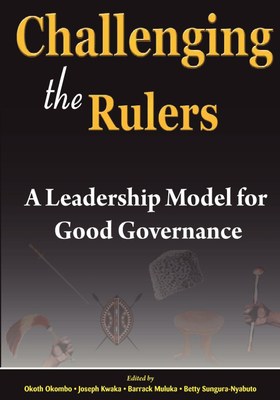 Challenging the Rulers
A Leadership Model for Good Governance
Challenging The Rulers: A Leadership Model for Good Governance brings to the fore the issue of leadership in developing countries like Kenya. Citing specific examples, it singles out bad leadership as the cause of stagnation and underdevelopment in Africa. This book advocates for a serious discourse on leadership as the most critical factor in a national quest for good governance and prosperity.
Unlike other writers who bemoan the state of affairs in Africa without offering alternatives, the authors propose a leadership model that can ensure good governance. This is based on the premise that good leadership means good governance hence reasonable economic growth and development. Values and principles of good leadership are outlined.
In 2010, Kenya took its pride of place among nations by enacting a new progressive constitution which among other things provides for a devolved government. However, the authors argue that good laws, structures, systems and policies simply provide the infrastructure for good governance. To move Kenya forward, good men and women of vision, who are committed to servant leadership, must rise up to activate these laws to bring about good governance as a means of improving people's quality of life. In a nutshell, this book advocates for reforms in leadership.
Challenging The Rulers is a challenge to all leaders - present and aspiring - to adopt this leadership model. To ordinary citizens, it is a call to take necessary action to elect good leaders.
About the Editors
Okoth Okombo is Professor of Linguistics and Communication Studies at the University of Nairobi. He is an experienced training consultant in leadership, negotiation, speaking and writing skills. As a training consultant in leadership, he has a long-standing working relationship with local and international organisations, including the following: The Youth Agenda (YAA), Friedrich Ebert Stiftung (FES), the National Democratic Institute (NDI), Centre for Law and Research International (CLARION), the National Defence College (NDC), and the World Trade Organisation (WTO). He has been involved in a wide range of youth leadership training programmes such as the NGOdriven Political Leadership Development Programme (PLDP), Citizens Against Violence (CAVI), and several others. Previous publications arising from his involvement in youth activities include (with Olang' Sana): Balaa Mtaani: The Challenge of Mending Ethnic Relations in the Nairobi Slums (CAVI & FES, 2010) and a chapter in Who is Guilty: Youth Perspectives on the 2007 Pre-Polls Electoral Violence in Kenya (YAA, 2007).
 Barrack Muluka is a publishing editor as well as a social and political commentator on global affairs. He is a regular opinion leader on the BBC, VOA and RFI, as well as on local radio and TV in Kenya. He is a columnist with The Standard and has been published in local and international publications, including The Nairobi Law Monthly, the Dag Hammarskjold Foundation's Development Dialogue and the Daily Nation of Kenya. He has published a variety of creative works – poems, short stories and children stories. Muluka is a graduate of the University of Nairobi, with a Bachelors degree in Linguistics, Postgraduate Diploma in Mass Communications and Masters degree in Armed Conflict and Peace Studies. He is a conflict and peace research consultant with UNDP Kenya and with the Institute for Security Studies (Kenya) as well as a media and communications adviser for the Kenya Institute of Management.
Joseph Kwaka, is the Executive Director of Community Aid International. He is a political science and literature graduate with postgraduate qualifications in communication and journalism. His experience spans the civil service, journalism, public relations, the UN and the civil society. A crusader of transformative leadership, he has been the initiator, designer and leader of several development programmes for the last 20 years in the NGO and private sectors. He chaired the (Kenyan) Lake Victoria Development Strategy Initiative under the auspices of EAC and is currently the Chairman of Translakes Ltd, a real estate company. He also chairs and plays a lead role in the governance of several educational institutions, regional and community development initiatives.
Betty Sungura–Nyabuto, a holder of a Bachelor of Laws degree from the University of Nairobi, is an advocate of the High Court of Kenya and a legal and governance consultant. She has interacted widely with the legal profession at the bar, the bench and in the public sector, and at local, regional and international levels, including the East African Court of Justice (EACJ) and the EAC. She has sat in the legal counsel FIDA-Kenya (2003-2006) and is the immediate former Chief Executive Officer and Secretary of the Law Society of Kenya (2006-2009).