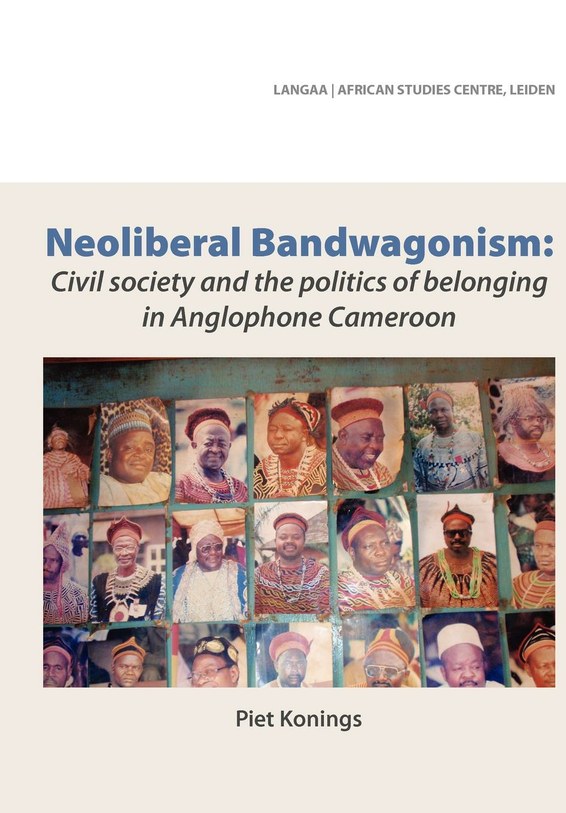 | | |
| --- | --- |
| ISBN | 9789956558230 |
| Pages | 274 |
| Dimensions | 244 x 170 mm |
| Published | 2009 |
| Publisher | Langaa RPCIG, Cameroon |
| Format | Paperback |
Neoliberal Bandwagonism
Civil society and the politics of belonging in Anglophone Cameroon
Civil society and empowerment have become buzz words in neoliberal development discourse. Yet many unanswered questions remain on the actual nature and configuration assumed by civil society in specific contexts. Typically, while neoliberals perceive civil-society organisations as vital intermediary channels for the successful implementation of desired economic and political reforms, they are inclined to blame the current resurgence of the politics of belonging for the poor record of these reforms in Africa and elsewhere. This book rejects such notions and argues that the relationship between civil society and the politics of belonging is more complex in Africa than western donors and scholars are willing to admit. Konings argues that ethno-regional associations and movements are even more significant constituents of civil society in Africa than the conventional civil-society organisations that are often uncritically imposed or endorsed. He convincingly shows how the politics of belonging, so pervasive in Cameroon, and indeed much of Africa, during the current neoliberal economic and political reforms, has tended to penetrate the entire range of associational life. This calls for a critical re-appraisal of prevalent notions and assumptions about civil society in the interest of African reality. Hence the importance of this book!
Reviews
"A compelling review of the field of theory and practice of civil society, re-assessing established methods in line with the Anglophone experiences in Cameroon."
Professor Tatah Mentan, Theodore Lentz Peace Scholar, Minnesota, USA
"Piet Konings has illuminated the Anglophone Cameroon experience for decades, from labour conditions to identity politics. The writings here connect his work and add that terrain to the broad sweep of contemporary African studies, and will guide all future scholarship on the region."
Milton Krieger, Professor Emeritus, Western Washington University, USA
"Konings' incisive study of various forms of recent protest in Anglophone Cameroon shows with superb mastery how the notion of 'civil society' can be made relevant to African realities. Of special importance is the way he links civil society to politics of belonging. This gives his study an urgent relevance beyond Cameroon and even beyond Africa."
Peter Geschiere, Professor for the Anthropology of Africa, University of Amsterdam
"...this is a splendid book."
Ben Page, African Affairs