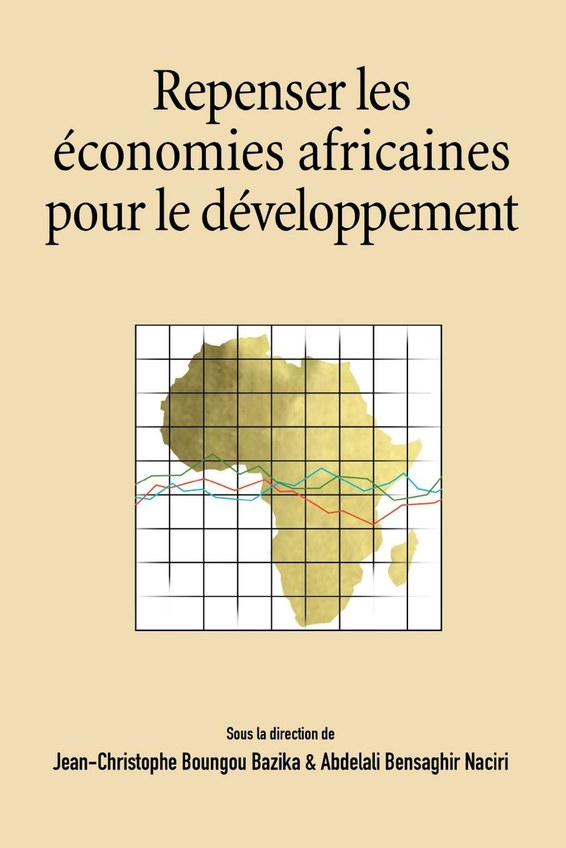 | | |
| --- | --- |
| ISBN | 9782869783294 |
| Pages | 264 |
| Dimensions | 234 x 156 mm |
| Published | 2011 |
| Publisher | CODESRIA, Senegal |
| Format | Paperback |
Repenser les economies africaines pour le developpement
L'ouvrage « Repenser les économies africaines pour le développement » est publié dans un contexte historique particulier, celui du cinquantenaire des indépendances des pays africains. C'est l'occasion de procéder au bilan et de suggérer de nouvelles alternatives. Depuis leur indépendance politique, les pays du continent africain sont en quête de modèles de développement de leurs sociétés.
Aujourd'hui, après le constat de l'impasse dans laquelle se retrouvent les économies africaines, de nombreuses idées innovantes émergent et sont exprimées par les contributeurs du présent ouvrage pour édifier de nouvelles stratégies de développement. Celles-ci s'appuient sur l'expérience réussie des pays d'Asie et d'Amérique Latine, sur une nécessaire réforme de l'État et un engagement plus poussé de celui-ci dans l'impulsion du développement. Les intellectuels africains sont interpellés afin qu'ils assument leurs responsabilités en produisant des connaissances novatrices susceptibles d'être appropriées par les décideurs du public et du privé et par la société civile.
La question de l'industrialisation et de la diversification des économies africaines est de nouveau soulevée face à une spécialisation étriquée ayant accru leur vulnérabilité aux chocs et ayant marginalisé d'avantage le continent dans le commerce mondial. Une attention particulière mérite d'être accordée à ces milliers de micro-entrepreneurs qui constituent la dynamique des économies africaines. La stratégie d'intégration est de plus en plus considérée comme un élément incontournable pour le développement d'un continent constitué de pays de petite taille et en proie à une grande instabilité politique. La question du financement du développement revient à l'ordre du jour et de nouvelles idées sont émises pour mieux canaliser les ressources provenant des migrants ainsi que les recettes publiques, et bâtir un système monétaire et financier plus viable.
Re-thinking African Economies for Development is delivered in the particularly historic context of the fiftieth independence anniversary of most African countries. This moment, therefore, calls for an assessment and suggestions for new alternatives. African countries have been searching for models of development since attaining political independence.
Taking cognizance of the fact that African economies are today stuck in an impasse, many innovative ideas are proffered by the contributors to this book for new development strategies. These ideas are essentially hinged upon the successful experience of countries in Asia and Latin America, and the need to reform the State and bring about development. African intellectuals are called upon in this book to rise up to their responsibility for the production of innovative knowledge that can be used by public and private sector decision makers to raise their communities out of poverty.
In this publication, issues of industrialization and diversification of African economies are raised again to decry their limited specialization which exacerbates their vulnerability toward crises. This, to a large extent, is at the root of Africa's marginal status in global trade. Special attention ought to be given to those thousands of micro-economy stakeholders who are actually the backbone of African economies. Regional integration is more and more seen as an imperative for economic development in the context of Africa's small sized countries that often fall prey to a great deal of political instability. The issue of financing of development is re-visited, and new ideas are put forth to better channel foreign direct investment and public revenue towards building a more viable monetary and financial system.
About the Editors
Jean-Christophe Boungou Bazika holds a PhD in Economic Sciences and is Associate Professor at the Department of Economic Sciences, Université Marien Ngouabi, Congo Brazzaville. He also serves as Director General at the Centre for Analysis and Political Economy Research (CERAPE). He has published extensively on issues related to development, regional integration, poverty and entrepreneurship.
Abdelali Bensaghir Naciri holds a PhD in Economic Sciences and is a Professor and researcher at the Department of Law, Economic and Social Sciences, Université Hassan II-Mohammedia, Casablanca, Morocco. He has researched and published widely in the fields of transport, logistics and international economy.