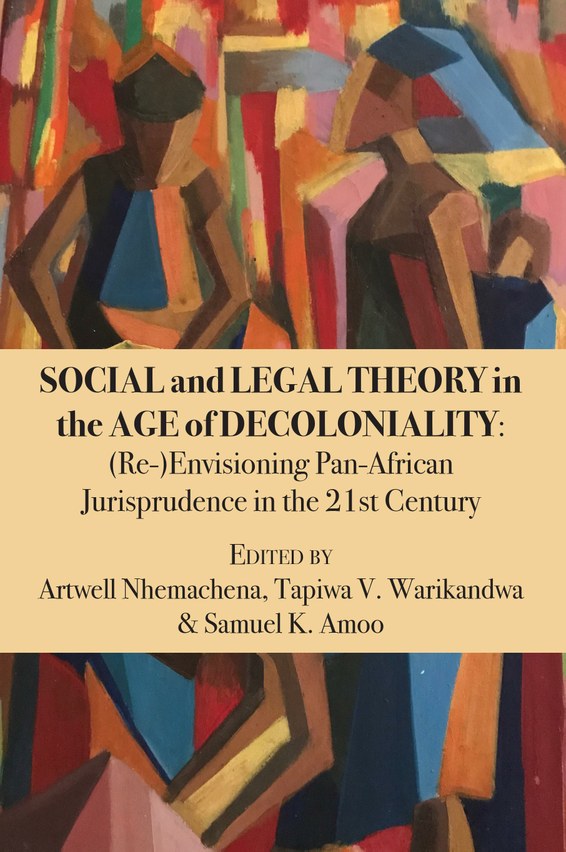 | | |
| --- | --- |
| ISBN | 9789956550128 |
| Pages | 508 |
| Dimensions | 229 x 152mm |
| Published | 2018 |
| Publisher | Langaa RPCIG, Cameroon |
| Format | Paperback |
Social and Legal Theory in the Age of Decoloniality
(Re-)Envisioning Pan-African Jurisprudence in the 21st Century
Right from the enslavement era through to the colonial and contemporary eras, Africans have been denied their human essence – portrayed as indistinct from animals or beasts for imperial burdens, Africans have been historically dispossessed and exploited. Postulating the theory of global jurisprudential apartheid, the book accounts for biases in various legal systems, norms, values and conventions that bind Africans while affording impunity to Western states.
Drawing on contemporary notions of animism, transhumanism, posthumanism and science and technology studies, the book critically interrogates the possibility of a jurisprudence of anticipation which is attentive to the emergent New World Order that engineers 'human beings to become nonhumans' while 'nonhumans become humans'. Connecting discourses on decoloniality with jurisprudence in the areas of family law, environment, indigenisation, property, migration, constitutionalism, employment and labour law, commercial law and Ubuntu, the book also juggles with emergent issues around Earth Jurisprudence, ecocentrism, wild law, rights of nature, Earth Court and Earth Tribunal. Arguing for decoloniality that attends to global jurisprudential apartheid., this tome is handy for legal scholars and practitioners, social scientists, civil society organisations, policy makers and researchers interested in transformation, decoloniality and Pan-Africanism.
About the Editors
Artwell Nhemachena holds a PhD in Social Anthropology from the University of Cape Town. He has lectured at a number of universities in Zimbabwe. Currently he lectures in Sociology at the University of Namibia. He has published journal papers, book chapters and books on violence and conflict, relational ontologies and resilience, environment, development, democracy, research methods, humanitarianism and civil society organisations, anthropological jurisprudence, mining, society and politics, religion, industrial sociology, decoloniality and social theory. He is a laureate and active member of CODESRIA since 2010. 
Tapiwa Victor Warikandwa holds a PhD in Laws from the University of Fort Hare in South Africa. He is a Senior Lecturer in the Faculty of Law at the University of Namibia. He has researched and published on various aspects of Law in Namibia and Zimbabwe. 
Samuel K. Amoo is an Advocate of the High Court for Zambia and Attorney of the High Court of Namibia. He is also an Associate Professor of Law at the University of Namibia and is the current Acting Director, of the Justice Training Centre (JTC) in Namibia.