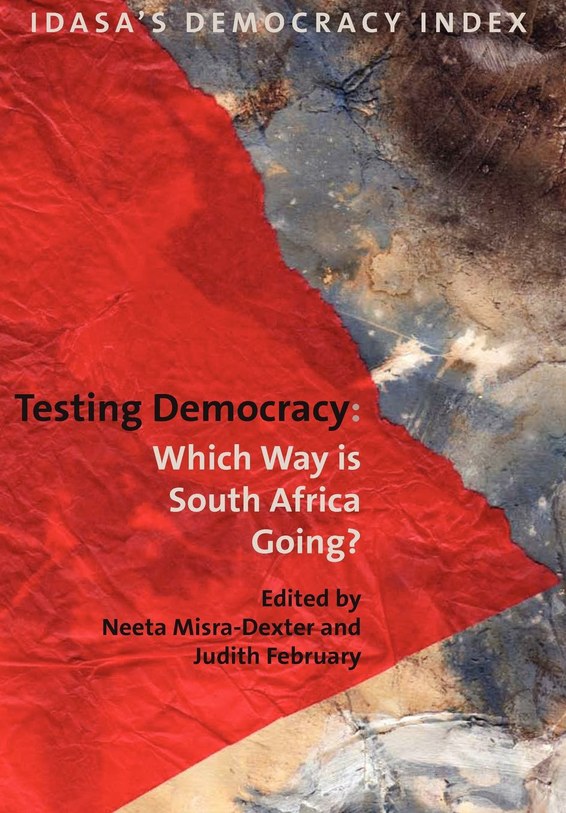 | | |
| --- | --- |
| ISBN | 9781920409159 |
| Pages | 312 |
| Dimensions | 244 x 170 mm |
| Illustrations | B/W Illustrations |
| Published | 2010 |
| Publisher | Idasa, South Africa |
| Format | Paperback |
Testing Democracy
Which Way is South Africa Going?
The book interrogates the relationship between democracy and development and how underdevelopment prevents citizens from participating in democracy. Section One is a collection of experts writing on key issues such as the single-party state; development policy; poverty, inequality and growth; the institutions of governance; the public service; and the role of civil society. Section Two, Idasa's Democracy Index 2010, releases Idasa's findings on Participation, Elections, Accountability, Political Freedom, Human Dignity and Democracy. The third in Idasa's Democracy Index series, this book argues that democracy needs economic development along with an embedded system of institutions, supported by active citizens and a vibrant political culture.
Reviews
"This book is a must read for all those wrestling with the challenges of consolidating democracy in Africa. South Africans have been granted a second chance to strengthen the foundations and practice of our democracy. These are lessons learnt from underestimating the challenges of the practice of rights and responsibilities of citizens of a constitutional democracy."
Mamphela Ramphele, Transformation Specialist
"Testing Democracy: Which Way is South Africa Going? is at once both a test of democracy and a testament to it. This book can guide openness and enquiry in our society, assist in identifying the deficiencies in our democracy and provide signposts to a sustainable democratic and developmental future."
Ebrahim Fakir, Manager, Governance Institutions and Processes Department, Electoral Institute of Southern Africa